Iranian foreign minister discusses Qatar row with EU's Mogherini
June 6, 2017 - 18:58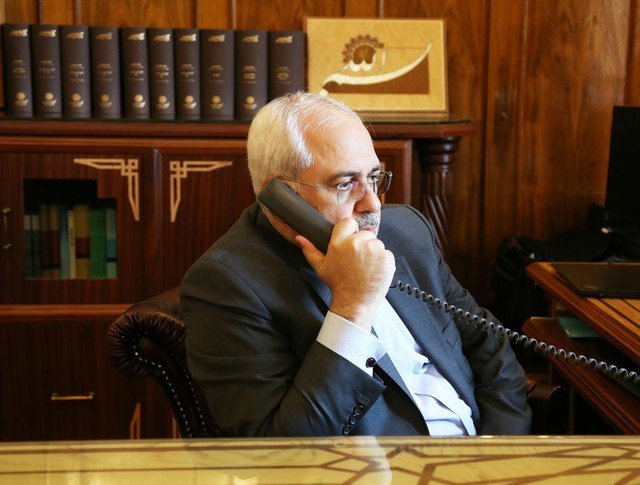 TEHRAN – Iranian Foreign Minister Mohammad Javad Zarif talked on the phone late on Monday with EU foreign policy chief Feredrica Mogerini discussing the emerging conflict between Saudi Arabia and Qatar.
The talks came after Saudi Arabia cut ties with Qatar and shut its land, air and sea border with the tiny nation who sits on the southern shores of the Persian Gulf. The United Arab Emirates, Bahrain, Egypt, and Maldives also followed Saudi Arabia by severing diplomatic ties with Qatar.
Saudi Arabia has cited Qatar's support for terrorism as the reason for the move, a claim disputed by analysts.
Iran has called for "clear and explicit dialogue" among the disputing nations, saying rising tension in the region would threaten the interest of everyone in the region.
On Monday, Zarif also held separate telephone conversations with foreign ministers of Iraq, Oman, Turkey, Kuwait, Qatar, Lebanon, Tunisia, Malaysia and Algeria to discuss the Saudi-Qatar row.
Kuwait has offered to mediate between the opposing countries. Qatar has said it is receptive to dialogue.
In an interview with Al Jazeera network, the Qatari foreign minister said his country was seeking "a dialogue of openness and honesty".
"For us, the strategic choice of the state of Qatar is to solve any dispute through dialogue," Sheikh Mohammed Bin Abdulrahman Al Thani said.
Qatar's ties with Hamas and the Muslim Brotherhood as well as its good relations with Iran are said to be the key factors that led to the rift with Saudi Arabia – Iran's regional rival.
Saudi Arabia has accused Qatar of "harboring a multitude of terrorist and sectarian groups that aim to create instability in the region." However, the Saudis themselves have been accused of funding extremists in the region, either directly or by failing to prevent private donors from funding militant groups including Daesh (ISIS).
MH/PA