Iraq's al-Abadi to visit S.Arabia, Kuwait, Iran soon 
June 19, 2017 - 10:35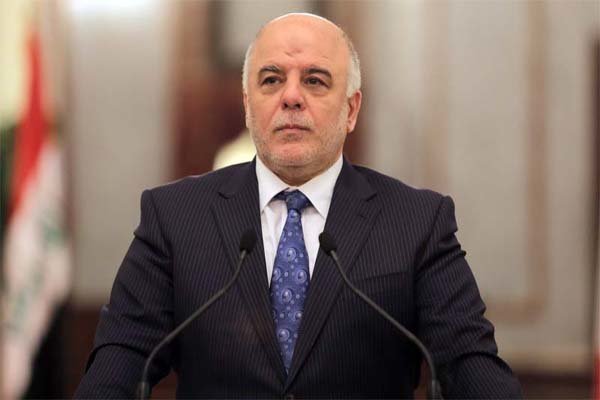 TEHRAN – Iraq's Prime Minister Haider al-Abadi will soon visit Saudi Arabia, Kuwait and then Iran as a reconciliatory effort as the Saudi-led political and economic boycott of Qatar is escalating, according to Iraqi media outlets. 
No more details were available.
Al-Abadi postponed a planned visit to Saudi Arabia last week to avoid taking sides in the rift between the kingdom and Qatar, Iraqi officials said on Thursday.
Wednesday's planned visit was postponed "so that it would not be considered as supporting one side against the other", Jabbar al-Abadi, a lawmaker close to the prime minister, told Reuters.
Iraq, which is driving ISIS militants out of their last bastion in western Mosul, has tried to play go-between in the region.
In January, Iraq's foreign minister said he had carried messages between Iran and Saudi Arabia in a continuing attempt to curb a feud involving its two neighbors.
Iran and Saudi Arabia have no relations since the storming of the Saudi embassy in Tehran by an angry mob in January 2016 who objected to the Saudi execution of Sheikh Nimr al-Nimr, a Shiite cleric.
Also, Baghdad has sought to help reduce escalating tension between the Saudi-led alliance and Qatar.
Saudi Arabia, along with the United Arab Emirates (UAE), Bahrain and Egypt, severed all diplomatic and trade relations with Qatar on June 5 for its ties with the Palestinian group Hamas and the Muslim Brotherhood.
However, recent remarks by other Iraqi officials have dimmed hope for al-Abadi to succeed.
On Saturday, Iraqi Vice President Iyad Allawi said Qatar promoted a plan to split Iraq along sectarian lines, voicing support for the isolation of Doha by some Arab states.
"In Iraq, Qatar adopted a project similar to that of Iran; to split Iraq into a Sunni region in exchange for a Shi'ite region," Allawi told a news conference in Cairo. "Unfortunately, some Arab states were silent when it came to Qatar."
Also, on Friday Allawi claimed Iran's support to Shi'ite groups in Iraq is obstructing efforts to bridge the sectarian divide ahead of a parliamentary election next year.
"Iran has been interfering even in the decision (making process) of the Iraqi people," he told Reuters. "We don't want an election based on sectarianism, we want an inclusive political process ... we hope that the Iraqis would choose themselves without any involvement by any foreign power."
Iran rejects the allegations, and was the first country to reach out to the Iraqi people after ISIS ravaged through the country in 2014.
AK/PA