Muslim ban will not make U.S. safer: Zarif
June 28, 2017 - 21:0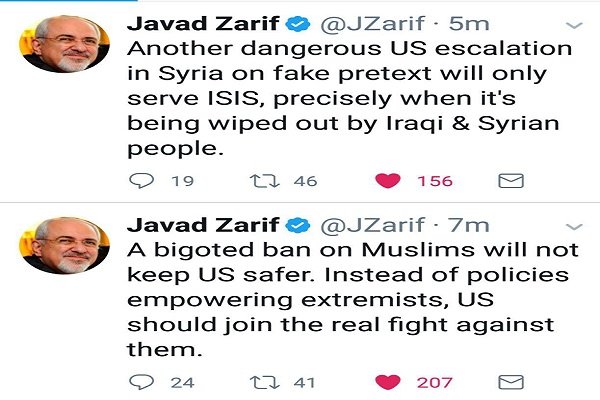 TEHRAN – Iranian Foreign Minister Mohammad Javad Zarif has said that the U.S. should stop adopting policies that empower terrorists, reminding the Trump administration that keeping Muslims out of the country will not make the U.S. a "safer" place.
"A bigoted ban on Muslims will not keep U.S. safer. Instead of policies empowering extremists, U.S. should join the real fight against them," Zarif tweeted on Tuesday.
The U.S. Supreme Court issued an order on Monday reviving parts of a travel ban on people from six Muslim-majority countries that U.S. President Donald Trump ordered on March 6.
Trump's March 6 order called for a 90-day ban on people from Iran, Libya, Somalia, Sudan, Syria and Yemen and a 120-day ban on all refugees while the government implemented stronger vetting procedures.
In a statement, Trump called the high court's action "a clear victory for our national security", Reuters reported on Tuesday.
Iranian Foreign Ministry spokesman Bahram Qassemi expressed regret on Tuesday over the fact that the U.S. has closed eyes on real perpetrators of terrorist acts.
"This decision of the [U.S.] Supreme Court is temporary and will be reviewed in October; however, contrary to the U.S. statesmen's claims, it shows that the government of that country has discriminatory and unfair views on Muslims," Qassemi said.
He added that the U.S. government has always viewed Muslims with "pessimism, insult and humiliation".
"The Islamic Republic of Iran will study the recent decision of the U.S. Supreme Court precisely and will take appropriate actions in this respect," he said.
NA/PA