By Mahnaz Abdi
27% rise in West Karoun output planned
July 10, 2017 - 18:31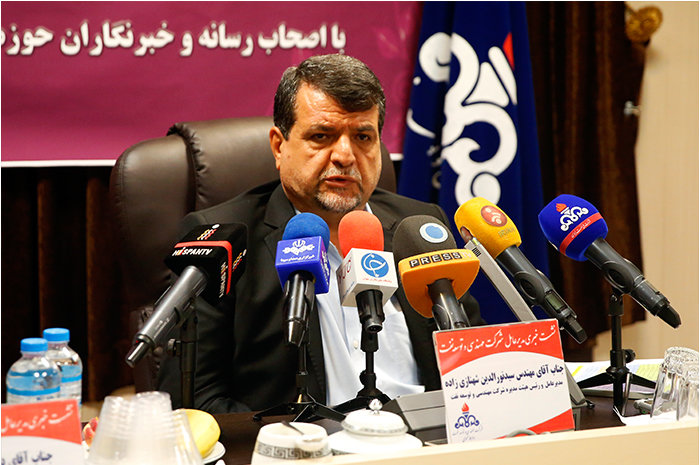 TEHRAN- Oil production from West Karoun oilfields in southwest Iran is planned to reach 368,000 barrels per day (bpd) by the end of the current Iranian calendar year (March 20, 2018), a 27 percent rise compared to its current annual output.
Seyed Noureddin Shahnazizadeh, the managing director of Petroleum Engineering and Development Company (PEDEC) - a subsidiary of National Iranian Oil Company (NIOC) in charge of developing West Karoun oilfields and a number of other oil and gas fields in the country- put the current production from West Karoun at 290,000 bpd.
Addressing a press conference in Tehran on Monday, he said PEDEC is committed to raise the daily production to 350,000 barrels by the yearend, but effort and planning are underway to reach a higher output.
He also announced that PEDEC's outlook plan is to reach an output of 1.33 million bpd in West Karoun and a total of 1.72 million bpd from all oilfields they are developing.
West Karoun region includes five oilfields (Yadavaran, North Azadegan, South Azadegan, North Yaran, and South Yaran) Iran shares with Iraq at the western part of Iran's southwestern region of Karoun.
Based on the latest studies, the in-situ deposit of West Karoun oilfields is estimated to be 67 billion barrels containing both light and crude oils.
Reclaiming its share of the global oil market in post-sanction era, Iran, once OPEC's second-largest producer, has it on agenda to ramp up crude production especially from the fields it shares with its neighbors. In this regard, West Karoun fields come under the spotlight.
IPC tender for Azadegan being prepared
The process of preparing the tender for development of the big and important West Karoun oilfield, Azadegan, based on Iran's new model of oil contracts (known as IPC) is being completed, Shahnazizadeh further announced.
He said 59 renowned foreign companies announced readiness for participation, among them 22 companies were qualified.
Azadegan oilfield has been the priority for the Iranian Oil Ministry to go on tender based on IPC. Oil Minister Bijan Zanganeh had said in mid March that the tender will be held very soon.
Study MOUs signed with renowned foreign companies
Elsewhere in his remarks, the managing director of PEDEC said that his company has signed memorandums of understanding (MOUs) with a number of famous foreign companies on conducting development studies on some of the country's oil and gas fields.
He named Anglo-Dutch Shell, France's Total, Malaysia's Petronas and Japan's Impex as the companies with them PEDEC has signed study MOUs for development of Azadegan, saying that some of these companies have already submitted the result of their studies.
Shell is also conducting studies on development of Yadavaran, he added.

Projects worth $21.5b underway by PEDEC
Shahnazizadeh said his company has currently projects worth $21.5 billion underway and added that PEDEC requires $36 billion investment for the implementation of all of its projects.