Hamed Haddadi's chance of playing at FIBA Asia Cup is 50-50
July 12, 2017 - 18:18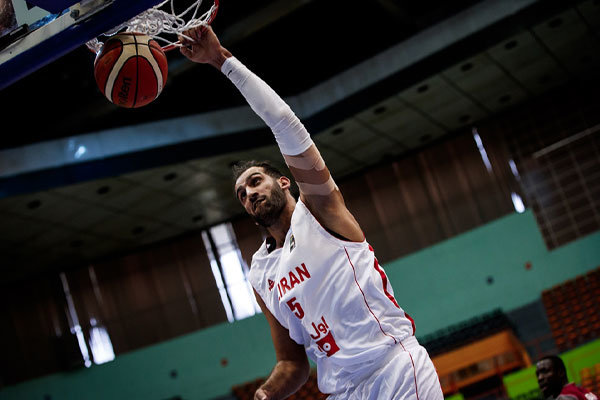 Iran basketball national team center Hamed Haddadi says that he has no idea if he is fit enough to play at the FIBA Asia Cup.
The 2017 FIBA Asia Cup will be held in Lebanon from August 8 to 20.
"I already spoke with our coaches and our federation to give me time for rest. My chances of playing at FIBA Asia Cup is just 50-50," said Haddadi in a fiba.com report.
The hulking 2.18m center has revealed his plans to rest an injury he sustained last year in preparation for the Asia Qualifiers to the FIBA Basketball World Cup 2019 in November.
"After the FIBA Asia Challenge last year, I had an injury and had to rest, but I still needed to play with Sichuan in China," he shared. "My injury got worse after, and now I need to rest this summer and be ready for the Asia Qualifiers."
This is a big development for Iran, of course, as Haddadi is not only the team's best big man, he is also a valuable veteran presence on a squad now dominated by up-and-coming players.
Haddadi would have been able to not only anchor Team Melli's interior play but also help guide some of the young guys on the national team.
"They are young and need to be in the camp and practice," he said. "If we want the national team to improve and be stronger, we should trust the young players and give them more time."
Among the young players expected to see action for Iran at the Asia Cup are hotshots Behnam Yakhchali, Sajjad Mashayekhi and Vahid Dalirzahan - all of whom played for Iran at the WABA Championship 2017. With these players making an impact for Iran, Haddadi is confident they will be a force to reckon with at the Asia Cup.
"Our national team is doing the best because we have good preparation with the young players for the FIBA Asia Cup," he explained. "I see the motivation in players' faces, and I know everybody will do the best for the national team."
One stumbling block for Iran will be the inclusion of Australia and New Zealand in the Asia Cup this year. Both the Boomers and Tall Blacks are elite national sides, and having them may dampen the odds of Iran returning to the top of the podium. Haddadi, however, welcomes this development. He knows that for the level of play in Asia to further improve, teams will need to play much better competition.
"I believe New Zealand and Australia will improve Asian basketball," he said. "If we want to play at the world quality, then we should play with more great teams, and these teams can help us."
Haddadi has been included in Iran's 24-man pool, but should he, indeed, miss the Asia Cup, coach Mehran Hatami will still have some rising stars who can carry the scoring, rebounding and shot-blocking cudgels. These include Rouzbeh Arghavan, Arsalan Kazemi and perhaps even Mohammad Torabi. Still, there is something to be said about having Asia's most dominant center of the past decade playing for your team, and Team Melli will most certainly still prefer having Haddadi on board for the Asia Cup.