Tehran crafts expo dedicates section to children, young adults
August 27, 2017 - 9:26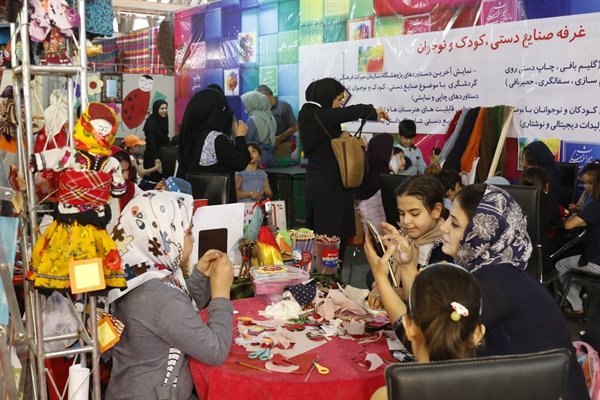 TEHRAN – The 28th National Crafts Exhibition in Tehran has dedicated a section to children and young adults in an innovative approach to closely make them familiar with ancient skills passed down from generation to generation.
"We are running workshops on seven branches of handicrafts including pottery, basketry, printmaking, inlaying, woodwork and marquetry with the help of experienced trainers," CHTN quoted Farideh Mehrinia, curator of the children's booth, on Thursday.
The initiative is set up by the Cultural Heritage Tourism and Handicraft Organization in close collaboration with the Ministry of Education, the report added.
Wide-ranging handcrafts from every corner of the country are on show during the 7-day exhibition, which opened doors to public at the Tehran Permanent International Fairground on August 23.
Craftspeople native to 31 provinces are attending the event to promote demanding skills of woodwork, illuminated manuscript, miniature, textile printing, enamel, leatherwork, handwoven products, calligraphy, traditional musical instruments, metalwork, and marquetry, amongst others.
PHOTO: Children attend a special training session at the 28th National Crafts Exhibition in Tehran on August 23, 2107.
AFM/MG