Involvement of regional states, especially Iran, needed to counter crises: Pakistan
September 11, 2017 - 21:15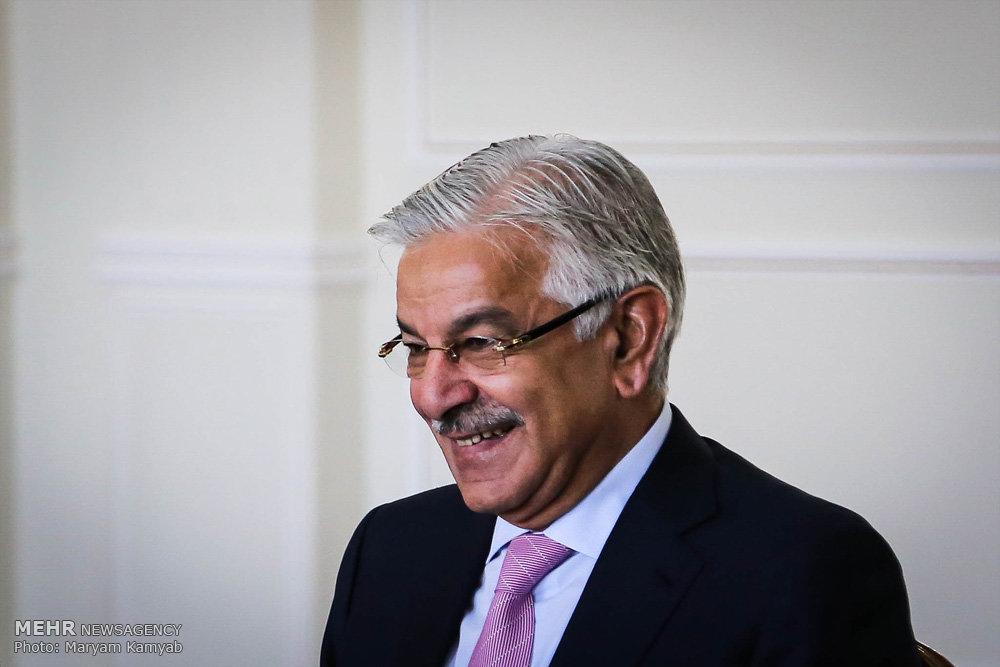 TEHRAN – Pakistani Foreign Minister Khawaja Muhammad Asif who made a visit to Tehran on Monday said it is necessary to involve all regional countries, especially Iran, to find solutions to the conflicts engulfing certain regional countries.
Asif made the remarks in a meeting with Iranian President Hassan Rouhani.
The Pakistani foreign minister went on to say that there is no military solution to the regional crises.
"The settlement of the problems of regional countries entail regional solutions, especially with the involvement of Iran," the minister remarked. "Any move by foreign powers cannot he helpful."
Pakistan attaches great importance to a "regional" and "strategic" solution to crises in the region, the minister pointed out.
"Today countries in the region are in danger of terrorism and efforts for a strategic and regional solution for getting out of the problems is essential," the Pakistani chief diplomat noted.
He added, "We believe that we should counter terrorism and establish peace, security and stability in the region".
For his part, Rouhani said solutions to the crises in the region can only be found by the regional countries without interference of extra-regional powers.
"The Islamic Republic of Iran believes that the regional countries, especially Iran and Pakistan, should make efforts and cooperate in establishing security and stability in the region," the president noted.
Rouhani says Iran firm to deepen ties with Pakistan
Rouhani also said Iran is determined to expand political, economic and cultural ties with neighboring Pakistan.
"Iran and Pakistan are two friendly, brotherly and influential countries in the region and Tehran is determined to expand political, economic and cultural relations with Islamabad," Rouhani stated.
Rouhani also said it is essential for the two countries to expand cooperation in fighting terrorism in line with increasing security at joint borders.
The president said increasing security at borders helps increase security and stability in the region.
Rouhani also called for facilitating banking relations between the two countries.
Asif and Iranian Foreign Minister Mohammad Javad Zarif also held separate talks, discussing regional issues, drug trafficking, refugees, campaign against terrorism and extremist groups and also the sufferings of the Rohingya Muslims in Myanmar.
Prior to his visit to Iran, Asif also said the resolution of the Afghan crisis entails a consensus among regional countries. He also said a "U.S. prescription" is not the remedy to the wounds of the region.
NA/PA