Strolling through Bazaar-e Vakil in southern Iran
October 5, 2017 - 15:3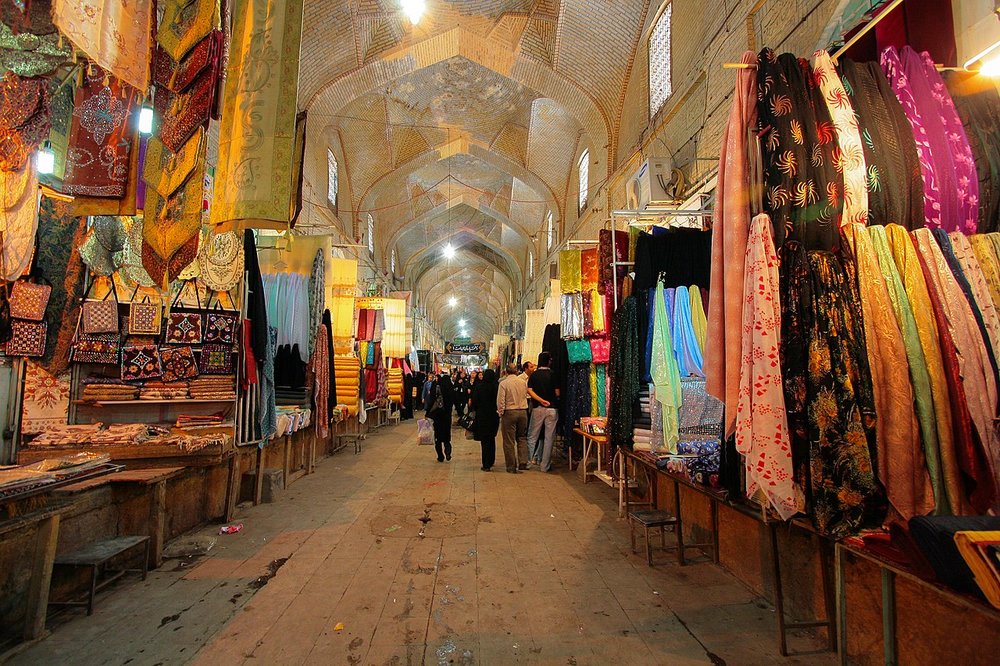 TEHRAN – With its atmospheric maze of meandering alleys behind the screaming street traders, Bazaar-e Vakil has always been a bustling tourist destination in downtown Shiraz, southern Iran.
The 18th-century marketplace is best explored by wandering without concern for direction or time in order to feel its indigenous culture and people along its lanes that finally lead off the main thoroughfares.
Seray-e Moshir - a restored caravanserai, Shamshirgarha Bazaar - a tribal handicraft arcade, and Seray-e Mehr Teahouse – a distinctive place to make a pause may be the highlights of a stroll through the bazaar.
Some visitors refer to Iranian bazaars as "a city within another" because most of them embrace mosques, madrasas, bathhouses, guesthouses, banks, once thriving caravansaries and residential neighborhoods.
Today the bazaar is home to almost 200 stores selling carpets, handicrafts, spices, antiques, leatherwork and clothes amongst others.
Its broad vaulted passageways are designed in such a way that ensure the interior remains cool in summer and warm in wintertime.
While most of its structures and marketplaces are associated with the 18th century onwards, the history of trade in the bazaar is rooted much deeper in time as narratives say the market was originally established by the Buwayhids in the 11th century CE.
In the Iranian culture, bazaars have been traditional public spaces in the Iranian cities with great contributions to commercial activities in the urban life meanwhile their extended activates can be traced to social, cultural, political and religious roles.
Shiraz is home to some of the country's most magnificent buildings and sights. Increasingly, it draws more and more foreign and domestic sightseers flocking into this provincial capital which was the literary capital of Persia during the Zand dynasty from 1751 to 1794.
Under tourists' eyes
Here is a select of comments that visitors to the grand bazaar have posted to TripAdvisor, one of the most popular travel websites in the world:
"Excellent bazaar"
After visiting various bazaars in various cities I was ready to give this 1 a miss. I'm glad that I didn't. This bazaar seemed to be better organized and set out, with an excellent selection of items on display. Most of the sellers spoke excellent English and were happy for a chat and a joke. Loved this bazaar! (Randall K. from Canberra, Australia; Reviewed in Sep. 2017)
"Great bazaar especially handicrafts"
This was a much "better" bazaar than Tehran. Great selection of goods and much less crowded and chaotic than our trip to Tehran bazaar the day before. Loved all the spices. (Jennifer R. from Sydney, Australia; reviewed August 2017)
"Persian Bazaar"
Old bazaars are my favorite in Iran. This is a huge old marketplace where you can buy almost everything. The best sections are for the carpets and spices. You can fine many antique and handcraft shops at reasonable price but you always have to bargain. There many shops around the bazaar where you can take a break and enjoy a cup of tea or coffee. (Hamzah B. from Kuwait City, Kuwait; reviewed August 2017)
"So much fun to walk around and get lost in"
So full of life in the evening. We were met by a guide in training who walked around with us for some of the time. It is a great place to just explore and experience. So much going on, great prices and people watching. There are a couple of places to eat inside. When we visited in July, the bazaar closed down from about 1:30pm until 4:00pm. It is wonderfully cool inside and sheltered. (C. H. from Washington DC, the U.S.; visited July 2017)
"Lovely to walk around"
We enjoyed seeing all the wares on sale and were not hassled at all. There is a cafe in a courtyard (signposted) which is ideal for a break. (Janet C. from Brixham, the UK; reviewed June 2017)
PHOTO: A view of Bazaar-e Vakil in Shiraz, southern Iran
AFM/MG