Tabriz historic bazaar complex: A melting pot of tradition, trade, and culture
October 31, 2016 - 20:20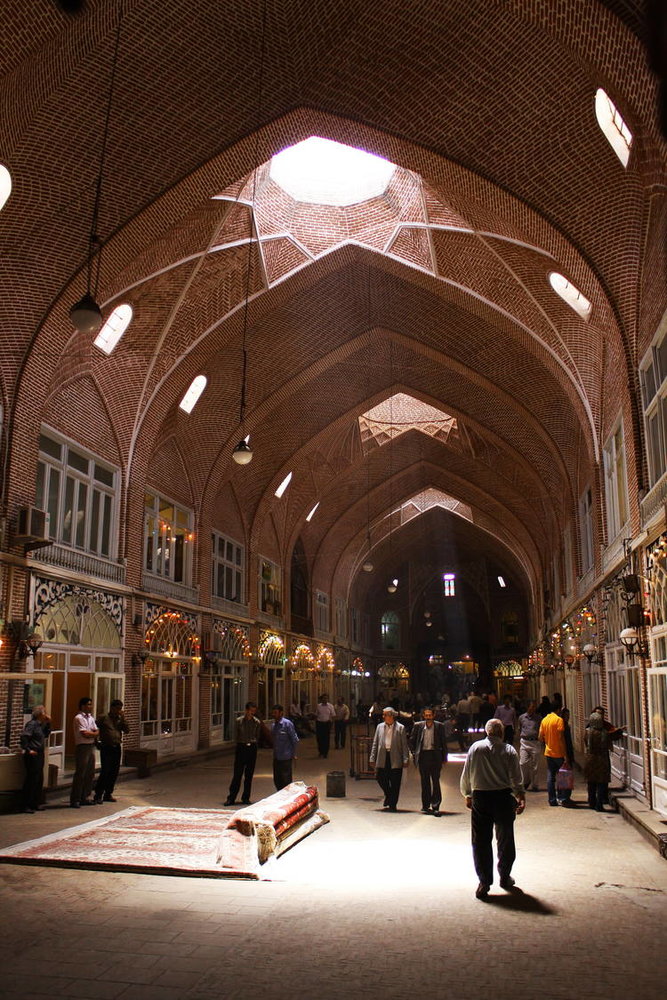 TEHRAN - Tabriz historic bazaar complex, a labyrinth of interconnected covered passages that adds up to about 5 kms, has been a melting pot of cultural exchange since antiquity and once a hot spot on the ancient Silk Road.
The bazaar, which has been inscribed on the UNESCO World Heritage list, embraces countless shops, over 20 caravanserais and inns, some 20 vast domed halls, bathhouses, and mosques, as well as other brick structures and enclosed spaces for different functions.
Tabriz is the capital of northwestern province of East Azarbaijan.
The history of the Tabriz bazaar dates back to over a millennium ago, however majority of fine brick vaults that capture most visitor's eyes date from the 15th century.
Most mazes and passages offer certain commodities such as carpets, metalwork, toys, clothing, jewelry, and kitchen appliances, traditional spices, herbal remedies and natural perfumes.
One can also bump into colorful grocery stores, bookbinders, blacksmiths, tinsmiths, coppersmiths, tobacconists, tailors, flag sellers, broadcloth sellers, carpenters, shoemakers, and knife-makers.
There are several divided carpet sections across the bazaar that enable visitors to watch or buy hand-woven Persian carpets and rugs with different knot density and other features.
The bazaar was also well-known and prosperous during the 13th century when Tabriz became the capital of the Safavid Dynasty (1501–1736).
The city lost its status as capital in the 16th century, but remained important as a commercial hub until the end of the 18th century, with the expansion of Ottoman power. It is one of the most complete examples of the traditional commercial and cultural system of Iran.
By the way, the city distanced its heyday as the capital was transferred eastward to Qazvin in the 16th century, but the bazaar remained vital as a commercial hub more or less.
Here is a select of comments that visitors to the ancient bazaar have posted to TripAdvisor, one of the most popular travel websites in the world:
"The most authentic bazaar I've been to"
Tabriz bazaar is not only huge and interesting from the point of view of architecture but it's the most authentic bazaar I've ever seen. Shops are meant for locals, not tourists and there are very few which sell souvenir. (Egoissimo from Cluj-Napoca, Romania; visited September 2016)
"Nice bazaar if you get there on time!"
Loved the brick work. Shops were your typical shops. We wanted to come for carpets but almost all of them were closed by the time we arrived. I would certainly go back - at a more appropriate time of course. (AbleDanger from Annapolis, Maryland; visited November 2015)
"Get lost in the miles-long alleys of the Tabriz Bazaar and rest in one of the remaining caravanserais"
Bazaar of Tabriz is unique in that unlike Isfahan, it operates primarily as a local "shopping mall" for local people, tourists being minority there.
You can spend hours there enjoying cultural observations, if you are interested in them, or simply walk down the alleys only to realize that you actually don't know whether you have been here already or not... (DariusSk from Lublin, Poland; visited August 2016)
"Beautiful bazaar with lots of good stuff to buy"
The impressive bazaar is probably the best reason to visit Tabriz. It's beautiful, and you can buy anything here. As a tourist it's fascinating to experience the great selection of nuts, dried fruits, mountains of tea, spices in abundance - you feel like buying it all. (Mogeltoft from Copenhagen, Denmark; visited July 2016)
"Beautiful bazar, worth a visit"
Beautiful bazar, with a lot of vendors, from shoes to carpets to dried fruits and nuts you will find everything.
(Yasmin A. from Zurich, Switzerland; visited July 2015)
An undated photo on the top shows one of the elaborately-roofed passageways within the Tabriz historic bazaar complex.
AFM/