S. Africa potential exports hub for Iranian products: JCCI president
October 24, 2017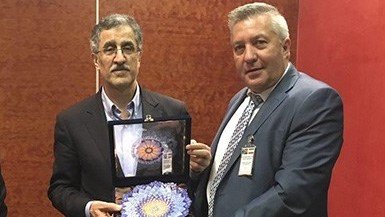 TEHRAN- President of Johannesburg Chamber of Commerce and Industry (JCCI) Herman Breedt announced that South Africa can act as a hub for exports of Iranian products to other African countries, the portal of Iran Chamber of Commerce, Industries, Mines and Agriculture (ICCIMA) reported on Tuesday.
In a meeting with ICCIMA Vice President Masoud Khansari, who visited the South African capital leading a delegation with Iranian Foreign Minister Mohammad Javad Zarif, Breedt called for expansion of economic ties between the two countries and said that South Africa can act as a bridge for Iranian businessmen to export their products, including LPG products and medicine, to other African countries.

He named auto industry, gold and diamond mines, and die casting as potential fields for the two countries to make joint ventures.
The South African official also announced that his country is inclined to import agricultural products including pomegranate, dates, and saffron from Iran.
Khansari, for his part, announced Iranian companies' readiness for exporting their products and making joint investments in fields of medicine, medical equipment, oil and gas, petrochemicals, etc. with their South African counterparts.
"If South Africa supplies the required finance for the intended joint projects, Iran can export its engineering and technical services to the country for implementation of infrastructure projects such as construction of power plants as well as roads in the African country," he added.
HJ/MA
PHOTO: JCCI President Herman Breedt (R) and ICCIMA Vice President Masoud Khansari