By Marjan Golpira
Kashmir Black Day marked in Pakistan embassy in Tehran
October 28, 2017 - 20:30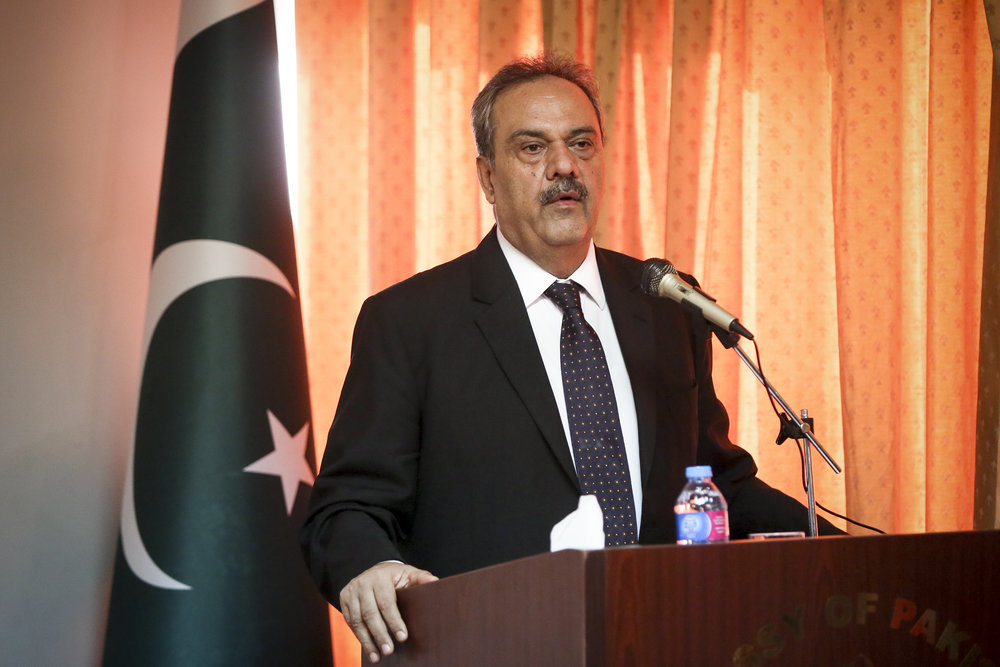 TEHRAN – The Pakistani embassy in Tehran observed Kashmir Day, otherwise called Black Day, on Saturday, October 28. It was held a day after the actual day.
Every year, on October 27, Kashmir Solidarity Day is marked in Pakistan and by Kashmiri nationalists across the world.
At the embassy were some academics, Pakistani diplomats including Ambassador Asif Ali Durrani who delivered a speech on the occasion.
Addressing the audience, Ambassador Durrani criticized the killing of Kashmiris by Indian forces in Jammu and Kashmir.
"Since 1947, innocent people of Indian occupied Kashmir have been suffering violence and brutality in the hands of Indian occupied forces."
Ambassador Durrani added that "in total violation of the Indian Independence Act, partition plan", India still occupies the Jammu and Kashmir.
"Despite commitment to the international community and numerous resolutions of the UN Security Council on Jammu and Kashmir, the Indian government continues to terrorize people of Kashmir," the envoy said.
The diplomat also shamed the United Nations for keeping silence to the Kashmir dispute and not taking a firm stance on the killings of Kashmiris.
The diplomat then expressed Pakistan's solidarity with the people of Jammu and Kashmir and reassured that his government would provide "moral", "political" and "diplomatic" support to the struggle of the Kashmiris "until resolution of issue in accordance with the UNSC resolutions."
"Ironically, it was India that took the dispute of Kashmir to the UN Security Council first."
The envoy, too, expressed gratitude to Iran's Supreme Leader Ayatollah Ali Khamenei and President Rouhani for supporting the cause of the Kashmiri Muslims.
Kashmir Day has been marked as a national holiday in Pakistan since 1990 as a day of protest against Indian control of Jammu and part of Kashmir, in northern India.