Iran crowned champions at IFBB World Bodybuilding
November 6, 2017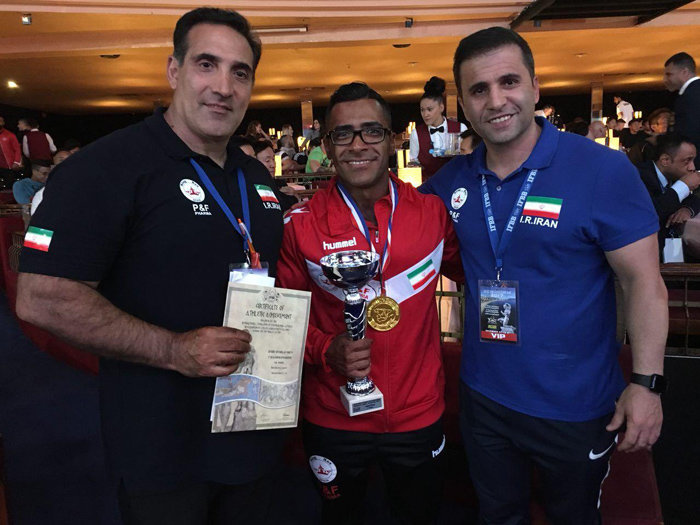 Mohsen Samadi sealed Iran's place atop the final medal standings at the International Federation of Bodybuilding and Fitness (IFBB) World Bodybuilding Championships after winning the regular overall title.
Samadi triumphed with a score of nine points, beating Oman's Haitham Al Zadjali by a margin of one, to move his country ahead of overnight leaders South Korea.
Poland's Szymon Lada finished third with a score of 14 points.
Samadi had earlier tasted victory in the over 100 kilograms category with a score of 16 points.
Ireland's Blessing Awodibu was the runner-up with 35 points, while Poland's Andrzej Kolodziejczyk came third with 48.
Iran's first gold medallist of the day was Hossein Kalateh, who won the up to 95kg division with a score of 22 points.
Ukraine's Volodymyr Byruk claimed the silver medal with 30 points and Slovakia's Peter Tatarka took the bronze with 38.
Two of the other three regular bodybuilding gold medals on offer today went the way of Oman with Al Zadjali securing the up to 85kg title and Ahmed Al Harthi coming out on top in the up to 90kg division.
Al Zadjali scored an unrivalled 23 points to beat nearest challenger Hamed Mahmoud Eini of Iran by 17 and Algeria's Abdelkader Benabdellah by a further two.
Al Harthi, meanwhile, prevailed with a score of 22 points with Iran's Mahdi Ghanavati second on 32 and Spain's Vicente Olombrada third on 56.
Other regular bodybuilding champion was Lada, who landed the up to 100kg gold medal with a score of 19.
Spain's Carlos Blanco just missed out on top honors to the disappointment of the home crowd, finishing second on 37 points.
Rounding out the podium was Iran's Mazaher Tabaniabarghani with 39 points.
Competition was also held in the physique discipline, marking a first for the IFBB World Bodybuilding Championships.
The stand-out performer was Ukraine's Dmytro Horobets after he followed up his success in the up to 176 centimeters event by claiming the overall title.
Horobets topped the up to 176cm podium ahead of Kosovo's Jetmir Goqi and Spain's Enrique Gutierrez, the silver and bronze medallists respectively.
He then saw off competition from France's Thierry Bayala and Sweden's Waldemar Gustavsson-Ek to clinch the overall gold medal.
Bayala and Gustavsson-Ek had earlier won the over 182cm and up to 179cm categories respectively.
Joining Bayala on the podium was silver medallist Atef Jendoubi of Tunisia and bronze medallist William Pluskota, who is also from France.
Gustavsson-Ek beat Iran's Akbar Sarbaz Sarkhanlo to success with Czech Republic's Patrik Herczik third.
In the up to 182cm category, Pablo Ramis secured hosts Spain's second gold medal of the Championships.
Turkey's Mahmut Alan finished second, while Trinidad and Tobago's Rocky Kewley came third.
Claiming their countries first and only gold medals of the Championships today were The Netherlands' Nehdyar Ramadan, China's Shaozhong Zheng and Colombia's Briger Renteria.
Renteria won the muscular physique open event ahead of Egypt's Ahmed Elhalawani and France's Alexis Autreau.
Ramadan and Zheng headed the physique in up to 170cm and up to 173cm standings respectively.
The former finished in front of Finland's Kamran Sherko Elyasi and Ecuador's David Ramirez, while the latter held off Japan's Shogo Sato and Shantia Lakpour for victory.
(Source: Insidethegames)