Defense chief says Tehran views Pakistan's security as its own
November 7, 2017 - 21:56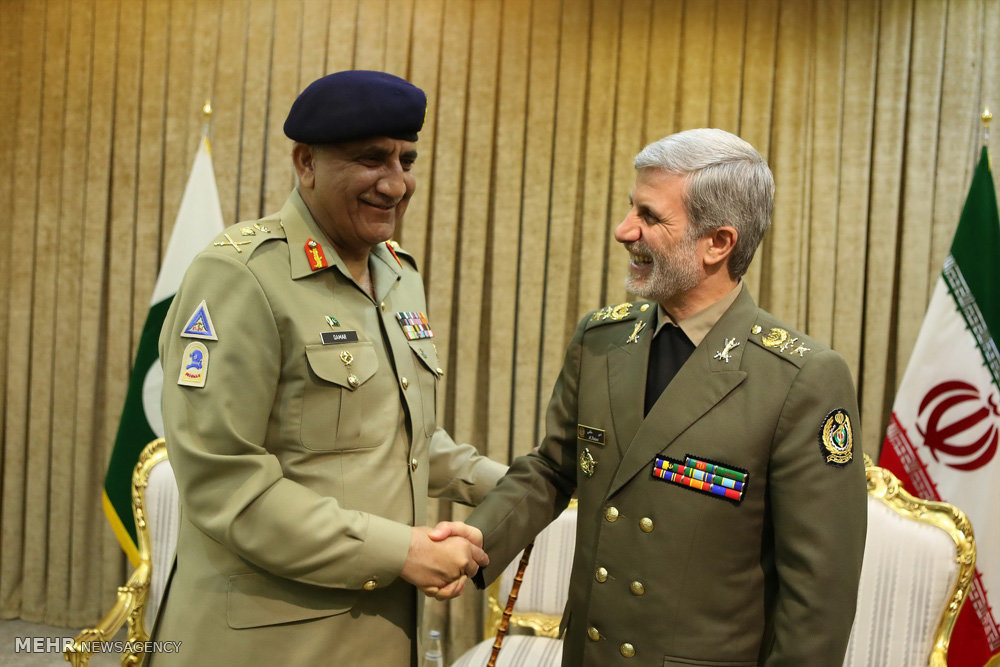 TEHRAN – Iranian Defense Minister Brigadier General Amir Hatami said on Tuesday that Iran considers the security of Pakistan as its own.
"Respecting the regional countries' territorial integrity and national sovereignty is among Iran's unchangeable foreign policy principles based on which we consider Pakistan's security as our own security," he said during a meeting with Pakistani Chief of Army Staff Qamar Javed Bajwa in Tehran.
Iran's defense chief also said a plot is underway by the hegemonic system to destabilize the region.
"Unfortunately, some regional and extra-regional countries do not stop destabilizing acts and are trapped in the U.S. and the Zionist regime of Israel's plots and seek to disintegrate the regional countries and fuel chaos," Hatami pointed out.
Hatami described the U.S. and Israel as the "most dangerous" supporters of terrorism in the region.
Iran uses all its capabilities to help maintain security in the region and protect the regional countries' territorial integrity, he added.
For his part, Bajwa said that Pakistan prioritizes fighting terrorism and establishing security in border areas with Iran.
He also said Islamabad attached importance to relationship with Iran.
Elsewhere, he urged the Muslim countries to boost unity which is essential to create stability and security in the region.
On Monday, Bajwa held separate talks with President Hassan Rouhani, Foreign Minister Mohammad Javad Zarif and Major General Mohammad Baqeri, the chief of staff of the Iranian armed forces.
Iran ready to transfer defense knowhow to Pakistan, IRGC says
Later the day, Bajwa met with Commander of the Islamic Revolution Guards Corps Major General Mohammad Ali, where the Iranian commander announced Iran's preparedness to share its experiences with Islamabad in defense fields.
"Having 40 years of the experience of resistance against enemies' threats, the Islamic Republic of Iran is ready to transfer its defense and popular resistance experiences to Pakistan," Jafari said, according to Fars news agency.
Warning that the regional nations and states are facing the U.S. and the Zionist regime's enmity, he said that certain attempts have also been made to foment insecurity in Pakistan which should be confronted by reliance on popular forces along with Armed and security forces.
Bajwa, for his part, warned that enemies are attempting to sow discord between Iran and Pakistan.
"Despite all plots and divisive measures of enemies, we seek to develop ties and cooperation (with Tehran)," the top Pakistani general noted.
NA/PA