TCCIMA delegation holds talks with Austrian, Slovakian counterparts
November 14, 2017 - 20:8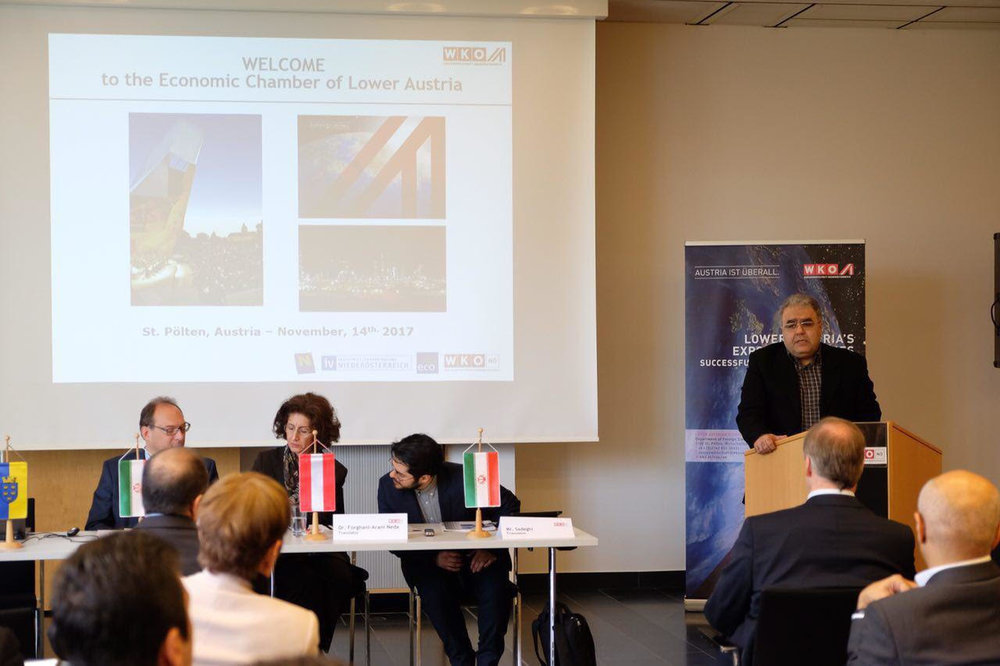 TEHRAN- An Iranian trade delegation from Tehran Chamber of Commerce, Industries, Mines and Agriculture (TCCIMA) explored avenues of further cooperation with their Slovakian and Austrian counterparts respectively at Bratislava Regional Chamber of Commerce on Monday and Economic Chamber of Lower Austria on Tuesday, the portal of TCCIMA reported.
The 33-member Iranian delegation left Tehran for Bratislava and Vienna on Sunday to negotiate expansion of economic ties with the two countries businessmen.
The delegation includes Iranian entrepreneurs and businessmen active in sectors such as medicine and medical equipment, food industry, mining, steel, agriculture, investment and etc.
Economic Chamber of Lower Austria hosts TCCIMA delegation
TCCIMA delegation on Tuesday participate in a meeting at Economic Chamber of Lower Austria attended by TCCIMA Secretary General Bahman Eshqi, Iranian Ambassador to Austria and accredited Ambassador to Bratislava Ebadollah Molayi and Austrian Chamber's Vice President Christian Moser.
During the meeting, Moser referred to his last year's visit to Iran and the taken measures, expressing readiness for expansion of economic ties with Iranians.
After the meeting, the Austrian participants were briefed about the available economic opportunities in Iran as well as possible areas for cooperation. Iranian and Austrian attendants started direct bilateral negotiations following the meeting.
TCCIMA delegation at Bratislava Regional Chamber of Commerce
The Iranian delegation's Monday meeting at Bratislava Regional Chamber of Commerce was attended by Eshqi, Molayi and President of the Bratislava Regional Chamber of Commerce Igor Jonas.
During this meeting, Eshqi expressed content about the various bilateral visits paid by Iranian and Slovakian senior officials to each other's countries during the past two years (as of the implementation of Iran's nuclear deal in January 2016), such as the visit paid by Slovakian ministers of finance and economy to Tehran and Iranian foreign minister's visit to Bratislava, saying that both sides seek expansion of mutual cooperation.
He named auto industry, renewable energies, telecommunication, agriculture, water management, tourism and research as the fields that Iran can take advantage of Slovakia's experience in them.
The TCCIMA official also referred to the signed one-billion-euro contract between 14 Iranian banks and Austria's Oberbank as well as the MOU signed between Iranian banks and South Korea's Exim Bank and Denmark's Danske Bank as the examples of the ever-increasing ties between Iranian banks and international banks in the country's post sanction era.
He called Iran-Slovakia banking cooperation significant since international banks have opened branched in Bratislava adding that Slovakia's Eximbank plans to open a €100-million credit line to back joint projects with Iran. Eshqi, accordingly, called for Slovakian government and banks to take measures on the way of easing banking ties with Iranian banks.
HJ/MA

PHOTO: TCCIMA Secretary General Bahman Eshqi speaking at Economic Chamber of Lower Austria