Iran, Austria hope for a snapback in trade
November 19, 2017 - 20:29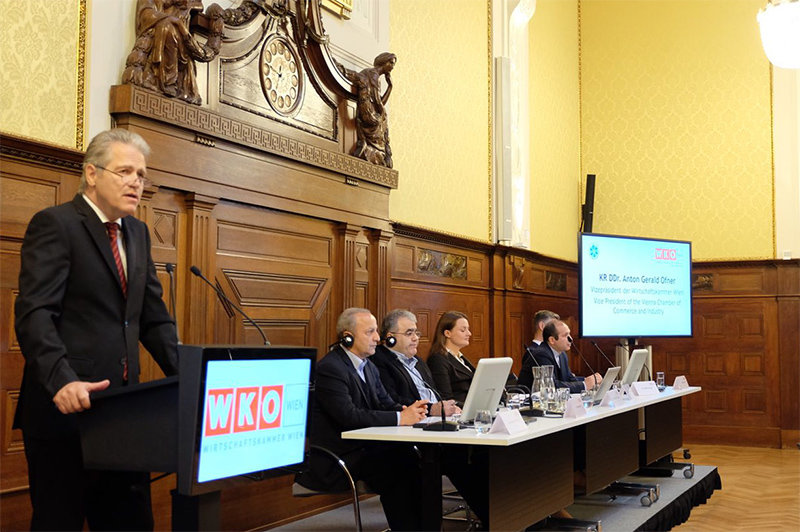 TEHRAN- Vice President of the Vienna Chamber of Commerce Anton Ofner expressed hope that economic bonds between Iran and Austria will soon reach its pre-sanctions level of €400 million, the portal of Tehran Chamber of Commerce, Industries, Mines and Agriculture (TCCIMA) reported on Saturday.
Addressing the joint meeting of TCCIMA and Vienna Chamber of Commerce in the Austrian capital, Ofner said that both sides plan to expand their mutual economic ties via implementing accorded agreements in the long-run.
Referring to the signed contracts between Iranian and Austrian companies in 2016, he said that Austria's exports to Iran has increased in the first half of 2017 and mutual trade value is expected to hit €400 million in near future.
As he announced, Iran can become one of the main partners of Austria in fields of medicine and medical equipment, information technology, energy, and urban infrastructure.
The official also vowed to support Iranian tradesmen for exporting their products to Eastern Europe.
A 33-member Iranian delegation, headed by TCCIMA Secretary General Bahman Eshqi, left Tehran for Bratislava and Vienna on November 12 to negotiate expansion of economic ties with the two countries' businessmen.
The delegation included Iranian entrepreneurs and businessmen active in sectors such as medicine and medical equipment, food industry, mining, steel, agriculture, investment and etc.
The TCCIMA delegates participated in a meeting at Economic Chamber of Lower Austria on November 14 and attended a meeting at Bratislava Regional Chamber of Commerce the day after to explore avenues of further cooperation with their Slovakian and Austrian counterparts.
HJ/MA
PHOTO: Vice President of the Vienna Chamber of Commerce Anton Ofner addressing joint meeting of Tehran and Vienna chamber