Urgent restoration lifts threat to Achaemenid tomb
November 26, 2017 - 12:19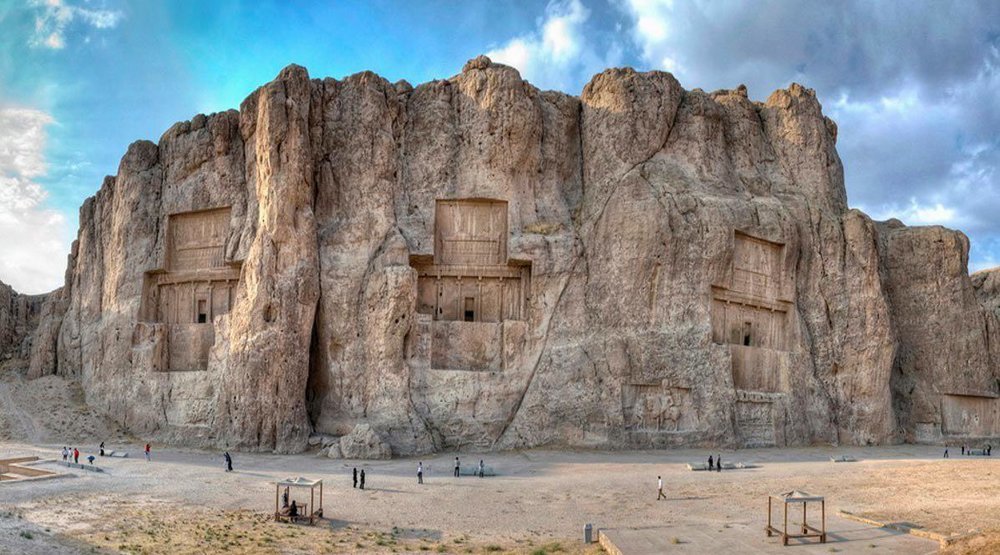 TEHRAN – A potential threat of physical harm to Xerxes the Great tomb has been lifted after an urgent restoration plan assured its safety measures.
The rock-carved tomb of Xerxes I is part of Naqsh-e Rostam which is a significant Achaemenid-era necropolis and Sassanid-era expertise in southern Iran. The site is in the vicinity of the UNESCO-registered Persepolis, itself a peak tourist destination in the country.
"A team of restorers from Persepolis along with cliff climbers from Marvdasht County carried out the project in spite of difficulties such as risk of falling stones," Mehr quoted Masoud Rezaei-Monfared, director of the Persepolis World Heritage site, as saying on Friday.
Protective measures were successfully implemented so that currently no serious danger is exposed to the walls and enclosures of the Xerxes I mausoleum, he added.
Xerxes I also called Xerxes the Great, was the fourth king of kings of the Achaemenid dynasty. Like his predecessor Darius I, he ruled the empire at its territorial zenith. Xerxes I is also famed in Western history for his invasion of Greece in 480 BC.
Naqsh-e Rostam, meaning "Picture of Rostam", is where four Persian Achaemenid kings are laid to rest, those of Darius II, Artaxerxes I, Darius I and Xerxes I (from left to right facing the cliff), although some historians are still debating this.
There are gorgeous bas-relief carvings above the tomb chambers that are similar to those in Persepolis, with the kings standing on thrones supported by figures representing the subject nations below.
Beneath the funerary chambers are dotted with seven Sassanian era (224–651) bas-reliefs cut into the cliff depict vivid scenes of imperial conquests and royal ceremonies; signboards below each relief give a detailed description in English.
PHOTO: A view of Naqsh-e Rostam, a lavish necropolis in southern Iran
AFM/MG