German cultural delegation visits Tehran museum
November 29, 2017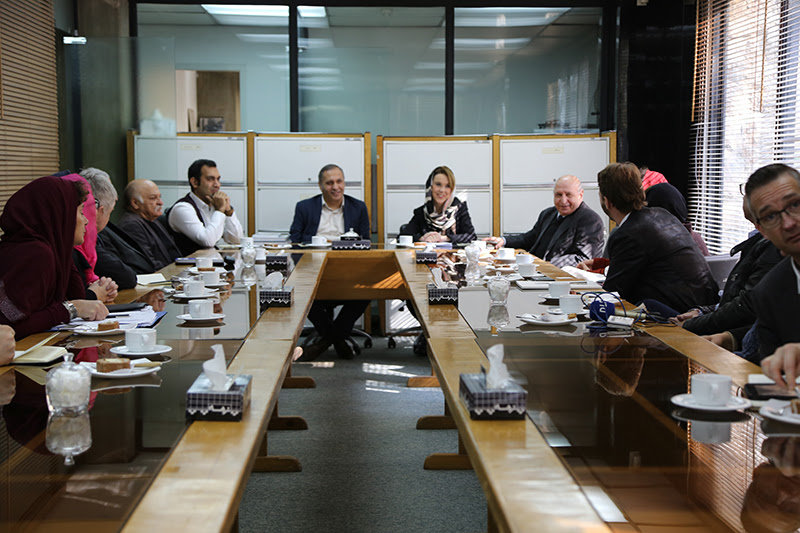 TEHRAN – A German cultural delegation led by Petra Olschowski, the state secretary at the Ministry of Science, Research and the Arts in Baden-Württemberg, has visited the Tehran Museum of Contemporary Art (TMCA), the museum announced on Wednesday.
The director of the State Gallery in Stuttgart, Christiane Lange; director of the State Art Hall of Karlsruhe, Pia Müller-Tamm; director of the State Art Gallery of Baden-Baden, Johan Holten; and several other German officials accompanied Olschowski during the visit.
The delegation also held a meeting with TMCA director Ali-Mohammad Zare' and a number of Iranian artists.
Olschowski said that the world is eager to see artworks from the museum and the delegation has been assigned the task of evaluating cultural interaction between the two countries.
Lange noted that Western art experts have a strong desire to see the TMCA treasure trove in order to increase their knowledge of contemporary art in the Middle East and in Iran in particular.
Müller-Tamm also praised TMCA's great reputation for its matchless artworks in the world, a reputation that has aroused much curiosity about the museum among cultural experts and art aficionados in Europe.
In addition, Holten announced the State Art Gallery of Baden-Baden's readiness to organize an exhibition of artworks from the TMCA.
The delegation also paid a visit to an exhibition by British sculptor Tony Cragg currently underway at the museum.
The TMCA had planned to loan a collection of its Western artworks for an exhibition at Berlin's New National Gallery in 2016.
However, the plan was suspended in response to strong opposition by Iranian art experts and gallery owners. Subsequently, Iran's Ministry of Culture and Islamic Guidance ordered that the plan be halted.
The opponents of the plan said that the collection could be impounded by legal claims from the family of Mohammad Reza Pahlavi, the last monarch of Iran, and the relatives of the royals.
The TMCA is home to works by many august artists of the West, including Claude Monet, Francis Bacon, Pablo Picasso, Max Ernst, Georges Braque, Alberto Giacometti, Jackson Pollock, Mark Rothko, Donald Judd, Andy Warhol, René Magritte, Duane Hanson and Chuck Close, which had been accumulated by Iran's former empress Farah Pahlavi.
Photo: A German cultural delegation led by Petra Olschowski (R), the state secretary at the Ministry of Science, Research and the Arts in Baden-Württemberg, holds a meeting with TMCA director Ali-Mohammad Zare' (L) an a number of Iranian artists in Tehran. (TMCA)
MMS/YAW