By staff and agency
UN chief says Iran complies with nuclear deal
December 15, 2017 - 19:5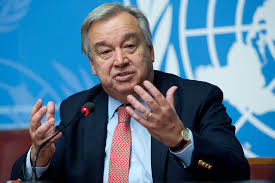 UN Secretary General Antonio Guterres has said that Iran is complying with the 2015 nuclear deal.
The UN chief says in a report to the Security Council that President Donald Trump's Oct. 13 decision not to certify the agreement under U.S. law created "considerable uncertainty" about its future, the Washington Post reported on Wednesday.
"I am reassured that the United States has expressed its commitment to stay in the Joint Comprehensive Plan of Action for now," he added.
He said, "I encourage the United States to maintain its commitments to the plan and to consider the broader implications for the region before taking any further steps."
Guterres welcomed support for the treaty from its other parties — China, Russia, Britain, France and Germany, the European Union and numerous other countries.
The nuclear deal was signed between Iran, the European Union, Germany and the five permanent members of the UN Security Council - the United States, Britain, France, China and Russia - in July 2015. The agreement went into effect in January 2016.