Fajr Music Festival announces winners 
January 21, 2018 - 19:52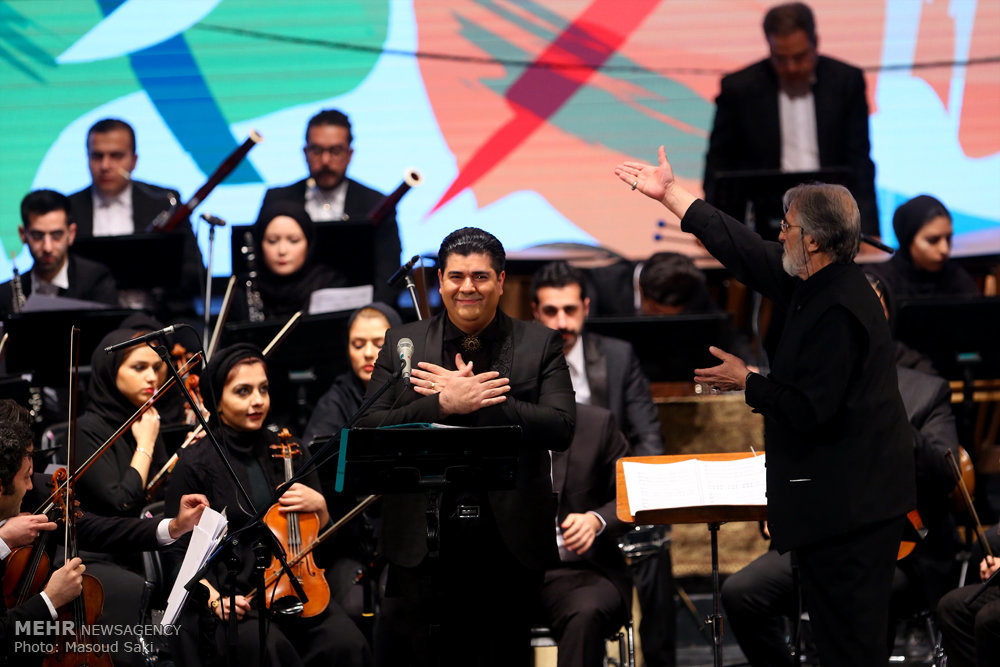 TEHRAN – The 33rd Fajr Music Festival wrapped up by honoring winners in various categories at Tehran's Vahdat Hall on Saturday evening.
In the Classical Music Composition category, the Barbad Award was shared by Alireza Mashayekhi for his album "Spectrum" and Karen Keyhani for his album "Garden of Leaflessness".
Milad Derakhani's "Talk!" won the Barbad Award in the Music without Vocals section. This album also received the award in the Fusion Music section.
Derakhani dedicated the later award to his parents and his brother, Pedram.
The award in the Vocal Music Composition section went to Kaveh Salehi for his collaboration on the album "This Is also a Tale".
The awards ceremony began with a performance by the National Orchestra, which performed pieces composed by Ali Tajvidi. Vocalist Salar Aqili accompanied the orchestra.
Afterwards, the secretary of the festival, Hamidreza Nurbakhsh, gave a report on organizing the festival.
He called Iranian musicians "the noblest artists" of the country because they still hopefully persist on their work despite the fact that their problems have remained unresolved over the past four decades."
He referred the decisions by certain groups to halt organizing concerts in the country and an unofficial ban for women's activities in music as a few of many obstacles the Iranian musicians face and expressed his hope that the Ministry of Culture and Islamic Guidance would step in to settle them soon.
The organizers then intervened to refresh the tense atmosphere with a solo performance by the Italian violin virtuoso Luca Ciarla.
The award ceremony went on with honoring Alireza Qorbani with the award for best singer of Iranian music for his album "Blaze".
"Giving prizes and ranking artists in the world of art is not very fair, as awards and rankings are not their priority," Qorbani said after accepting his award.
"Thus, I'm not so very happy, because I believe that all the musicians here deserve to receive such an award," he added.
The festival also honored the 87-year-old Kurdish singer Ebrahim Qaderi and Faraj Alipur, a veteran singer from the Lorestan region, for their lifetime achievements in Iranian regional music.
In the Dastgahi Music category, the Barbad Award was presented to Qasem Rahimzadeh for his collection "River Song".
Pop singer Kaveh Yaqmai received a Barbad Award for best composition in his latest album "Suddenly Gone" and Mehdi Yarahi won the award for best pop singer for his album "Full-Length Mirror".
The ceremony came to an end with a performance by Yarahi.
The organizers of the 31st edition of the festival in 2016 named their award after Barbad, a renowned musician at the court of Sassanid king Khosrow II who ruled from 590 to 628 CE.
Photo: Vocalist Salar Aqili (C) acknowledges the audience after a performance with the National Orchestra during the closing ceremony of the 33rd Fajr Music Festival at Tehran's Vahdat Hall on January 20, 2108. (Mehr/Masud Saki)
MMS/YAW