Quds is undeniable capital of Palestine: Araqchi
January 31, 2018 - 20:23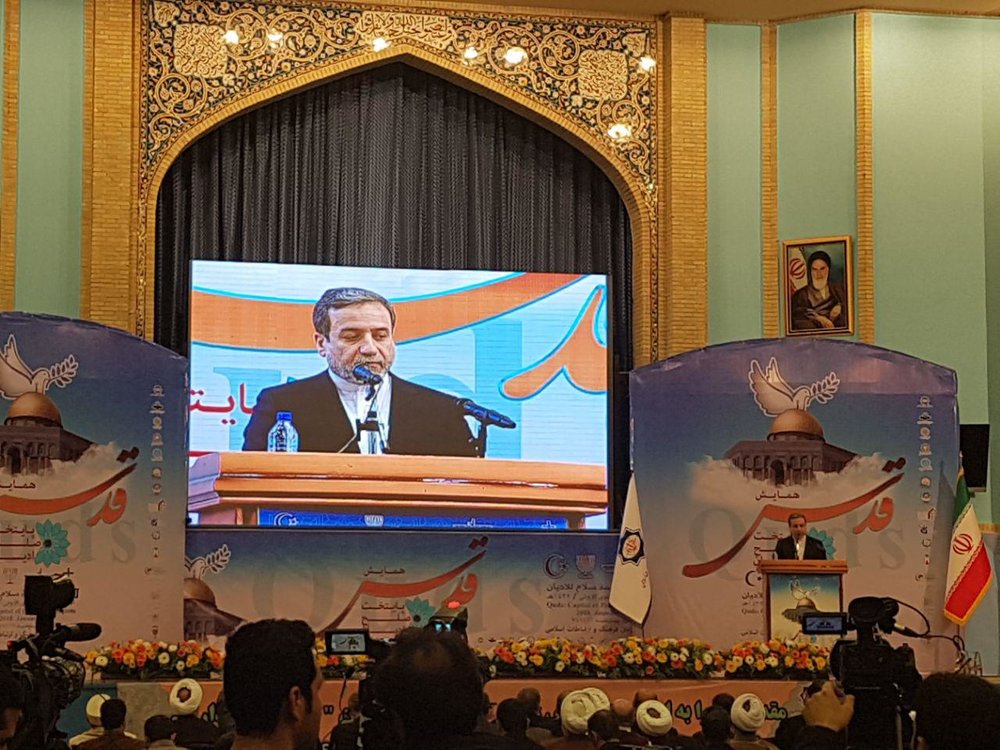 TEHRAN – In response to U.S. President Donald Trump's recent decision to recognize Quds (Jerusalem) as capital of Israel, a top Iranian diplomat said on Wednesday that Quds is the undeniable capital of the Muslim world and Palestine.
Addressing a conference entitled, "Al-Quds, Capital of Peace among Religions," Deputy Foreign Minister Abbas Araqchi said Trump's decision on Quds has been rightly condemned by the Muslim world as well as the international community, Mehr reported.
On December 6, the U.S. president declared that he recognizes Quds as the capital of Israel and ordered the relocation of the U.S. embassy from Tel Aviv to Quds.
"The Islamic Republic of Iran will always voice vehement condemnation against this irrational move by the American president, and will stand against any attempts at making a change in the status quo of Quds city," Araqchi remarked.
"[Trump's] move is not only unfair, but it also contravenes the UN resolutions," he added.
Quds is a respected place for all divine religions and it should remain so, Araqchi stressed.
Describing Quds as the first Qibla of Muslims, he emphasized that the issue of Quds is considered as the main issue of the Muslim world and should be kept alive.
He also condemned any move to attract attention to the Muslim world except for the issue of Palestine and Quds.
The Zionist regime should be described as a threat to the Muslim world, the official said.
Araqchi once again reaffirmed the position of the Islamic Republic of Iran in support of Quds as the "inseparable and inviolable" capital of Palestine, calling on all Muslims in the world to work together toward the liberation of Quds and perseverance and support of Quds civilization.
Elsewhere in his remarks, Araqchi said the enemies are trying to derail Muslims from their main goals through formation of terrorist groups, fanning the flames of civil wars and creating division among Muslims.
MH/PA