Hezbollah chief: President Assad ordered downing of Israeli F-16 fighter
February 16, 2018 - 21:31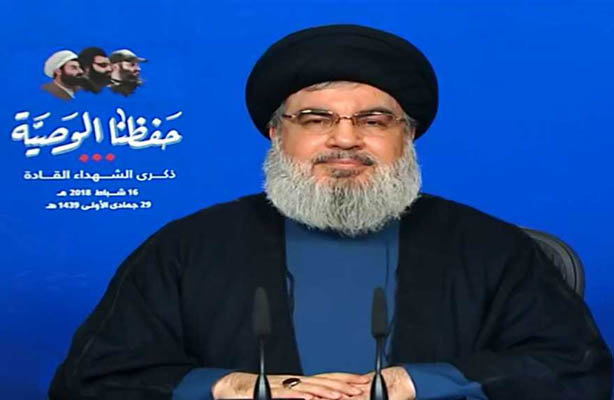 Hezbollah Secretary General Sayyed Hassan Nasrallah in a speech in Beirut on Friday said that the United States is seeking to plunder the Syrian oil and gas in East Euphrates.
He said the Trump administration is not ashamed to clearly announce that it is seeking to robe oil and gas riches in the Middle East region.
The major oil and gas wells in Syria are located in East Euphrates, he explained.
The Hezbollah chief also said Israel is currently seeking to misuse the war in Syria as an opportunity to win Donald Trump's recognition for the capture of the Syrian Golan Heights.
Nasrallah also said the Trump administration looks at Iraq as an oil field and this has been understood by the Iraqi people.
He added there is also speculation that the crisis in relations between certain Persian Gulf Arab states with Doha is over the possession of Qatar's abundant gas reserves.
Elsewhere in his speech, the Hezbollah chief said Syrian President Bashar al-Assad had personally ordered the downing of the Israeli F-16 fighter on Feb. 10
"Beshar Assad ordered the downing of the Zionist regime's fighter."
He added, "It was a Syrian decision… and Iran and any other party had no role in it."
Nasrallah also called the downing of the fighter a "unique military achievement" which will have negative consequences for Israel.
PA/PA