By Maryam Qarehgozlou
Noruz festivities signify peace and cheerful togetherness
April 2, 2018 - 15:15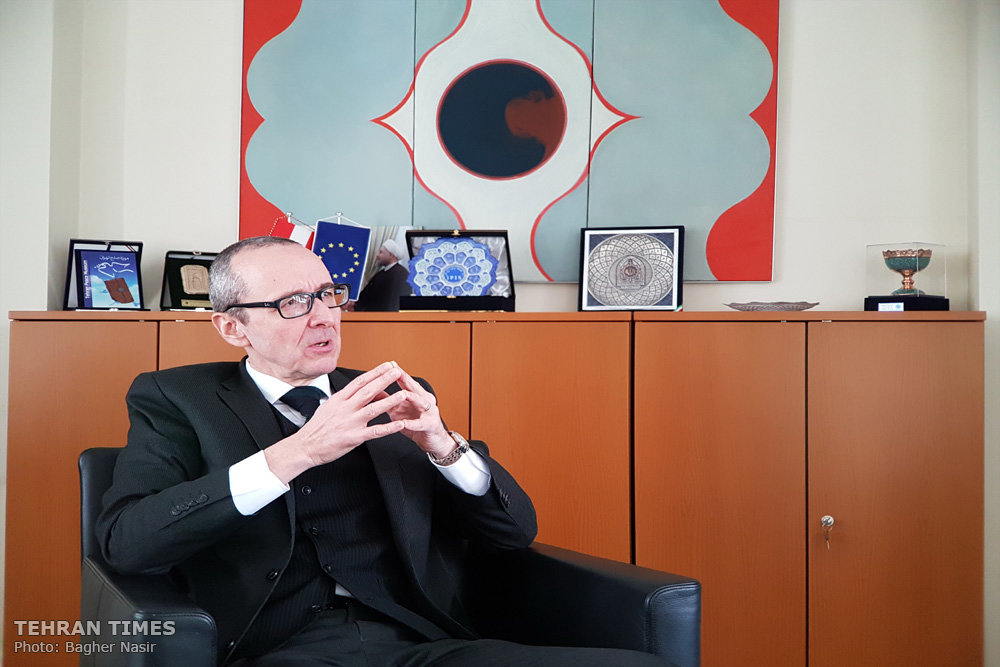 The gentle spring breeze reminds us of the green, blooming and refreshing first season of the year and of course Noruz holidays.
For Iranians, Noruz is a fresh start, just as is for the nature. The two-week fun-filled holidays, celebrating the beginning of the Iranian new year, is a great opportunity to travel around, hang out with the loved ones and friends or just lying around and do nothing but to relax.
While the spring celebration is marked in other countries worldwide, including Afghanistan, Georgia, Azerbaijan, Kazakhstan, Tajikistan, Uzbekistan, Turkmenistan, etc., many other people around the world might not be very much familiar with the long-standing, deep-rooted traditions being observed in these countries.
The Tehran Times have conducted interviews with two European ambassadors to Tehran who are going to spend their first Noruz holidays in the country.
Stefan Scholz, Austrian ambassador to Iran, described the holidays as a chance for families to gather together, to feast and simply to enjoy being with one another. But the days can also be a meaningful time to reflect on our blessings and remember how God has been faithful in our lives. He expressed his pleasant surprise at the discovery of numerous cultural affinities and commonalities the two countries share.
"I'm going to stay in Tehran [during the holidays] and I'm very much looking forward to the spirit of Noruz holidays that I understand is a very old tradition bringing together families. This is one of the most wonderful things [about it], and secondly, life calms down and it gets more quiet, people can think, can talk, can go out and do things together, experience nature and go hiking," Scholz, Austrian Ambassador told the Tehran Times.
He went on to say that "after having enjoyed the winter solstice [Yalda's night] it was an unexpected surprise to discover how closely our cultures are interconnected, there are so many parallels with the Iranian civilization which I was not prepared to find."
"My wife and I already hosted a reception in December [for Yalda's night], we set a table with the book of Hafez, fruits and nuts, pomegranates and watermelons on it."
"In general, here in Iran, I somehow feel more familiar than in a number of countries I travelled which are geographically closer to Europe. That was the most pleasant surprise for me as an Austrian when I arrived here to see these commonalities not only on the linguistic side but also when it comes to the cultural roots of our traditions. There are many commonalities which have not been investigated thoroughly by our historians, maybe after my retirement I will write a book about it. "
"I think aside of cultural cross-fertilization there also has been and always will be culinary cross-pollination happening. Recently we organized an Austrian food festival in Tehran. When I researched for my opening words it dawned on me how much Austria has profited from Iran's wealth of history and I found out that animal and garden agriculture, including seeds and the Persian walnut tree and the knowhow of using the force of running water to grind corn to flour were first cultivated in this region long before via intermediaries they were passed on to Austria."
"Many Europeans are not aware how much this regions over the millennia has had a positive influence on our societal development. Particularly, as we are living through difficult days right now this is something we should celebrate and be thankful for and admit that cross-pollination does not only go in one direction, it always moves in both directions and the farther we look back in history the stronger it gets, and as regards the future, I see great potential for partnering with Iran in knowledge management and joint learning to the benefit of a strong value-based societal development in our two countries" the Austrian ambassador concluded.
The Serbian ambassador to Tehran, Dragan Todorovic, also expressed his interest in the unbroken, family traditions upheld in Iranian families during the holidays.
"This Noruz will be my first Noruz in Iran," Todorovic said, adding, "When I was a student I studied about Noruz, the Iranian culture and history but this will be the first time that I can directly be with Iranian friends during Noruz."

"I heard a lot of things about Noruz from my Iranian friends but I'm happy now to see it directly. I hope that I will have good time with my Iranian friends here in Iran in Tehran or some other place, I still don't know, but I can tell you later how it was."
In response to the Tehran Times question to see if he knows anything about the traditions in this joyous occasion Todorovic seemed to know his stuff; "As I know this is a family holiday because people have told me that on the first days [of the holidays] young people pay visits to the head of the families and older people and after that older people visit younger people's houses."
"Also they told me that there are seven kinds of food all starting with "S". I'm very happy to see it and I think it would be very interesting for me," the Serbian ambassador said.
Either you're an Iranian, or you are from other countries and happen to be our guest during this celebration of Earth's rebirth, you will definitely have a great time here in the land of centuries-old traditions.
MQ/MG