31st Tehran International Book Fair kicks off
May 2, 2018 - 17:49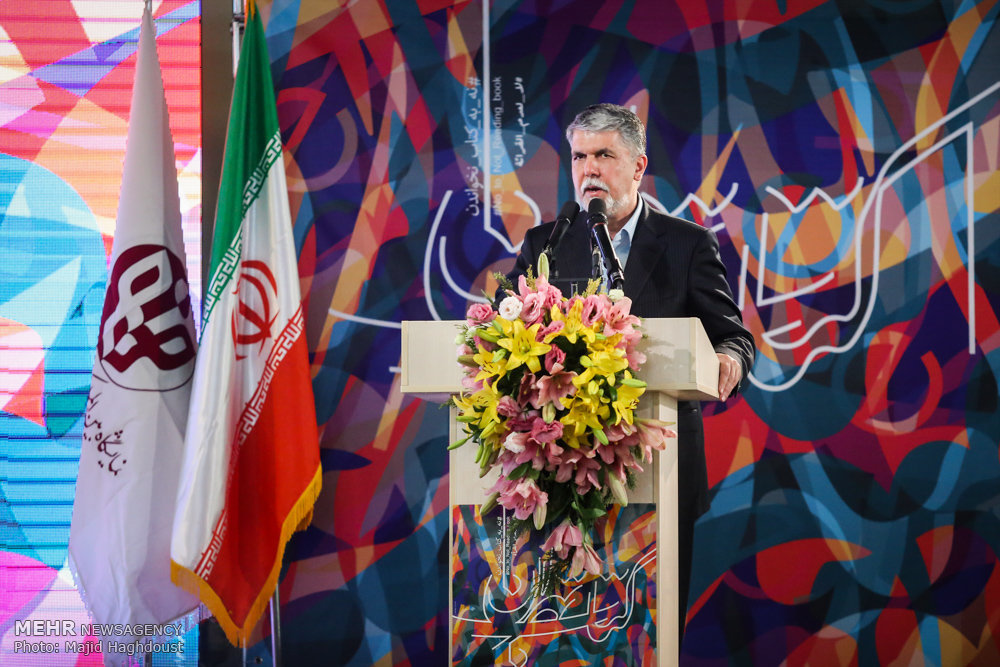 TEHRAN – Minister of Culture and Islamic Guidance Abbas Salehi officially inaugurated the 31st Tehran International Book Fair at the Imam Khomeini Mosalla on Tuesday.
In a press conference held at the Iran Cultural Fairs Institute (ICFI) on Sunday, Deputy Culture Minister for Cultural Affairs Mohsen Javadi announced that President Hassan Rouhani would attend the inauguration.
Speaking at the opening ceremony, the minister said that due to a number of national and international events which required urgent decisions, the President was unable to attend the ceremony and expressed his apologies.
Serbia's Culture and Information Minister Vladan Vukosavljevic, Serbian ambassador to Tehran Dragan Todorovic and a number of ambassadors and cultural attaches of different countries were the special guests of the opening ceremony.
Serbia is the special guest of the 31st Tehran International Book Fair and a group of Serbian writers along with artists and cultural officials are attending the event.
Salehi called books the basis of culture in a country and said, "Each nation that wants to begin a new movement within itself needs to begin with a book.
"The world knows Iran through (Ferdowsi's) Shahnameh, (Rumi's) Masnavi, and Divan of Hafez. Books are regarded as the national asset of each nation. The mines and oil wells will be exhausted one day but what will remain are books. So we can call books the major element of the civilization," he added.
The publishing economy, children's book publishing and private sectors were other topics the minister mentioned in his opening speech.
Honoring the top publishers was also included in the ceremony.
Ney Publications and Safir-e Ardehal shared the best publisher award in the private adult publications category in Tehran.
The best award of the private adult publications in other cities was shared by Ketabestan-e Marefat and Shahid Kazemi publications.
In the children and young adults section, Qadyani and Ofoq were introduced as the best publishers in Tehran, while Madreseh Publications was selected the best in the non-governmental publisher category.
Sureh- Mehr Publication was honored as the best non-governmental adult publisher.
Publishers from over 50 countries, including Germany, China, Hungary, Austria, Russia and Iraq, are attending the book fair.
The Quintessence International Publishing Group and the Walter de Gruyter GmbH from Germany, the New York-based company Demos Medical Publishing, as well as the CRC Press, LLC, a publishing group from the U.S. are among the publishers attending.
In addition, Tunis, the capital of Tunisia, is the guest city of the fair. A number of cultural officials, publishers and writers from the city are at the fair.
Over 2500 Iranian publishers have showcased their latest offerings in various sections of the event.
This year the fair has also set up a gallery to display works by Iranian artists.
The 31st Tehran International Book Fair promoting the motto "No to Not Reading Books" will be running until May 12.
Photo: Minister of Culture and Islamic Guidance Abbas Salehi speaks at the opening ceremony of the 31st Tehran International Book Fair on May 1, 2018. (Mehr/ Majid Haqdust)
RM/YAW