Iran Oil Show 2018 hosting over 4,000 companies
May 6, 2018 - 20:44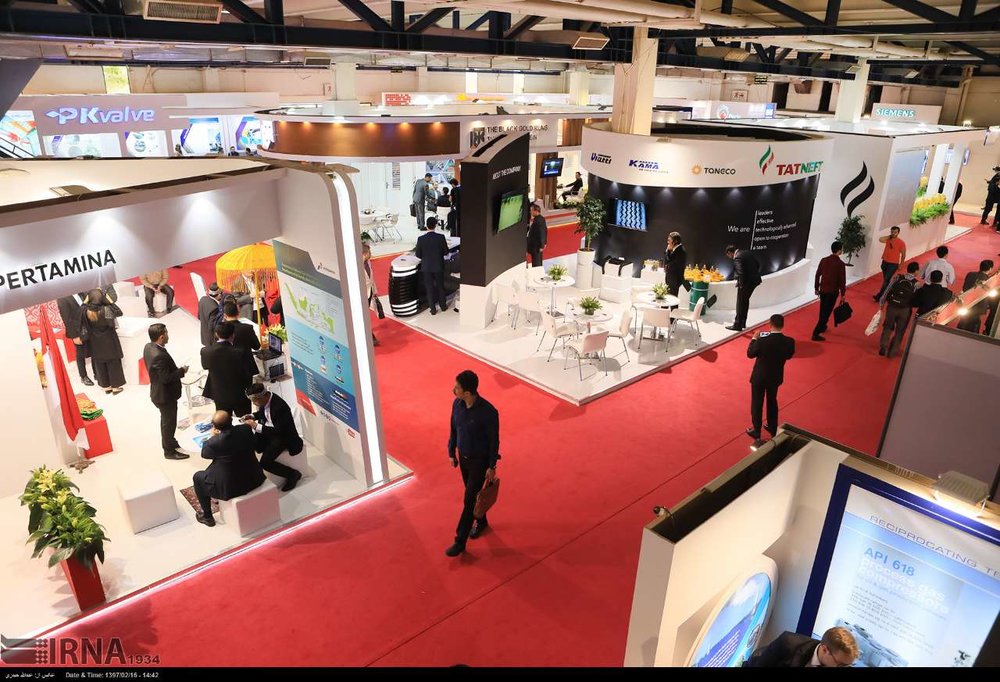 TEHRAN- More than 4,000 domestic and foreign companies are participating in the 23rd Iran International, Oil, Gas, Refining and Petrochemical Exhibition (Iran Oil Show 2018) which kicked off on Sunday at the Tehran Permanent International Fairgrounds.
Renowned companies from 38 countries including Azerbaijan, Austria, Spain, Germany, United Arab Emirates, Britain, Italy, Belgium, Turkey, the Czech Republic, China, Russia, Japan, Sweden, Switzerland, France, Croatia, South Korea, Poland, the Netherlands, India, Finland, Hong Kong, Bahrain, Kazakhstan, Monaco, Canada, Liechtenstein, Oman, Denmark, Taiwan as well as the USA, Norway, Australia, Brazil, Malaysia and Singapore are showcasing their latest products and achievements in oil and gas industry in the four-day event, Shana news agency reported.
The inaugural ceremony of the exhibition was attended by Iranian Oil Minister Bijan Namdar Zanganeh, Gas Exporting Countries Forum (GECF) Secretary General Yury Sentyurin, Croatian Deputy Prime Minister Martina Dalic, and a number of Iranian parliament members, ambassadors of other countries in Iran, directors of Iranian oil, gas and petrochemical industries, and representatives of some renowned international companies.
Iran is not after higher oil prices: Zanganeh
Speaking at the inaugural ceremony of the exhibition, Iranian oil minister said Iran doesn't want oil prices to run too high, ISNA reported.
The official noted that oil prices should be at a level that supports the market stability, because volatility in the market results in instability for investment.
Mentioning Iran's historical role in the world's energy market, Zanganeh said, "Iran has always tried to protect the market from getting affected by politics. Politicizing the energy market and imposing restrictions are neither in the interests of the producers nor the consumers."
"The West might be able to hinder our development, but they cannot stop us and we will continue to progress in all areas," said the minister, emphasizing that the world cannot ignore Iran's role in the energy market.
$6b-package allocated for domestic companies' contribution in oil industry
Further in his remarks, Zanganeh noted that a $6-billion package has been defined to encourage domestic companies' contribution in maintaining and increasing the country's oil production.
"The package will be soon approved and holding tender for certain projects was started late last year" the minister said.
According to the official, the funding will be supplied from the domestic markets and over 50,000 job opportunities will be created in oil-rich areas.
"In this package, the tender candidate companies are provided with a list of domestic products and they are obligated to prioritize using Iranian products," Zanganeh said.
Elsewhere in his remarks the oil minister mentioned IPC contracts, saying, "In the IPC contracts, several actions were taken to support Iranian companies. Firstly, in each contract, an Iranian company should be partnered with the foreign company. We have also emphasized maximizing the use of domestic productions. In three signed IPC contracts, more than 70 percent of the work, in terms of value, is executed by Iranian companies."
EF/MA