Tehran subway short of 10,000 cars: councilor
May 20, 2018 - 10:47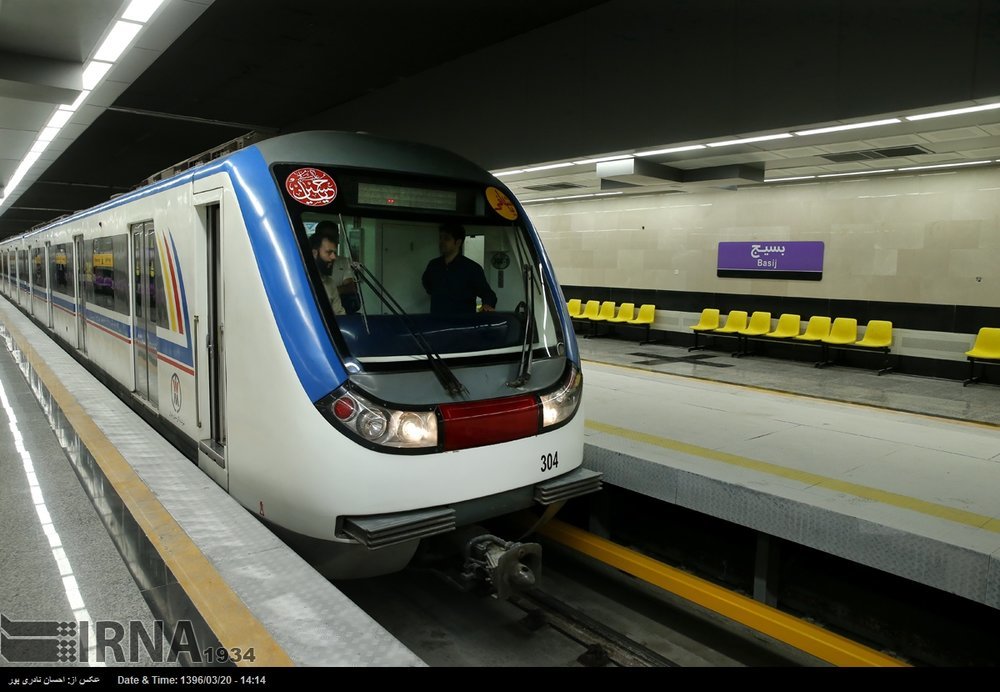 TEHRAN — Tehran subway is short of some 10,000 cars in order to be fully operational, councilor Mohammad Alikhani has said.
It is a high priority for us to equip the current operational subway lines, Fars quoted Alikhani as saying. Adding 2,000 new cars carries a cost of 100 trillion rials (nearly $2.4 billion) and equipping the station and subway lines drives up the costs to 220 trillion rials ($5.2 billion), he explained.
The aforesaid expenses greatly exceed the municipality's budget and it takes some 10 years to achieve this goal, Alikhani lamented, adding, "But we are looking into other options to raise fund for equipping subway lines by drawing from the National Development Fund."
He further expressed hope that at least 50% of the intended projects will be completed within the next four years.
Currently, there are five operational subway lines in the city of Tehran which deliver some 2.2 million rides on a daily basis, and once lines 6 and 7 are completed they can increase the metro ridership to some 5 million a day which would certainly help tackle air pollution in the metropolis of Tehran.
The despicable air pollution
The latest figures released in April by the World Health Organization (WHO) show that nine out of 10 people are breathing air containing dangerous levels of pollutants.
An overwhelming majority of the world's population breathes polluted air, according to a new report released in April from State of Global Air.
95 percent of the world's population lives in an area where the air quality does not meet the World Health Organization's healthy air guideline, which is PM2.5. PM2.5 means particulate matter in the air — caused by motor exhaust or anything combustible — that is less than 2.5 micrometers.
The State of Global Air report also includes data detailing the number and rate of deaths attributable to air pollution in each country in 2016. Afghanistan with 406 deaths per 100,000 people, Papua New Guinea with 322 deaths per 100,000 people, Central African Republic with 320 deaths per 100,000 people, Guinea-Bissau with 317 deaths per 100,000 people, Niger with 267 deaths per 100,000 people, Guinea with 265 deaths per 100,000 people, Somalia with 265 deaths per 100,000 people, Sierra Leone with 261 deaths per 100,000 people, Chad with 252 deaths per 100,000 people, Solomon Islands with 250 deaths per 100,000 people, Togo with 250 deaths per 100,000 people, North Korea with 249 deaths per 100,000 people, and Cote d'Ivoire with 248 deaths per 100,000 people were the 13 countries with the highest death rates from air pollution.
Free of charge public transportation
According to a report published in March in Telegraph, European cities are increasingly looking toward free transport in a bid to combat air pollution. Anne Hidalgo, the Paris mayor, is the latest local leader hoping to make public transport free across the city, emulating the success of a handful of small towns across France which let residents board buses and trams without paying a cent.
The German government is also considering rolling out free transport across the entire country - with the same aim as in France of reducing air pollution - if a pilot scheme in five big cities this year works out.
Brussels has moved to make the city's public transport and bike share system free on the smoggiest days in a bid to drive down pollution levels and meet EU air quality directives, the Guardian reported in February.
MQ/MG