By Kamal Iranidoost and Payman Yazdani
Brazilian govt. to help businesses continue trade with Iran: Ambassaddor
June 18, 2018 - 12:6
TEHRAN – The Brazilian government will spare no efforts to help Brazilian and Iranian firms develop relations after the U.S. withdrawal from Iran nuclear deal, according to the Brazilian ambassador to Iran in an exclusive interview with the MNA.
Brazil's Ambassador to Tehran Rodrigo de Azeredo Santos visited Mehr News Agency headquarter in the center of Tehran on June 11 and sat down for an interview with journalists from the English desk.
The following are the most important questions and his answers:
Q: We would like to start by asking a question about your country's foreign policy. To me, Brazil acts like an economic entity. Its foreign policy looks very much like that of China? It has never sought to engage in any political rift with other countries. It only pursues its economic interests. Does Brazil as a leading country among developing countries and a member of BRICS want to protect third world countries against U.S. unilateralism? Does it seek to do business in local currencies rather than the U.S. dollar to put an end to dollar supremacy?
A: Well, Brazil as you said is a developing country. It plays a major role in the world economy also in the political sector as well because of the strength of its economy. But of course, we have many challenges, social challenges. There is a lot to invest in social development and this reflects in our foreign policy and the kind of relations that we are looking for.
With regard to nature of our country, as you mentioned, Brazil is not looking for any political supremacy or war or, let's say, a more aggressive policy. So, you are right. In Brazilian history, in Brazilian diplomacy history, let's say, all our problems were resolved by peaceful were resolved by peaceful negotiations. Brazil has not been engaged in war maybe since 1860 when we had a war in the continent. And all our borders were defined through negotiations. We have never had war to conquer territories or to define our borders. Those were negotiated at the end of the 19th century and beginning of the 20th century through diplomacy. So, we have this tradition of working with diplomacy, with multilateralism. Brazil is very much in favor of multilateralism. So, when you talk about unilateralism of some countries, I agree. But Brazil pursues the right way. It pursues cooperation, seeks to solve the world problems through negotiations. We really believe in multilateralism.
Brazil was one of the founding nations of the United Nations and even before, the League of Nations. Therefore, we are very active in multilateral organizations and institutions. In many areas, in environment for example, Brazil has been always very active in supporting environmental policies.
In economic area, Brazil is part of the G 20 that comprises G7 plus some developing countries. As a member of the BRICS, as you mentioned, Brazil has good cooperation with the nations such as China, Russia, India, and South Africa. So, Brazil's foreign policy has been very active in cooperation and coordination with other developing countries. Brazil has good cooperation to defend the interests of the developing countries in the WTO for example…So, Brazil has always been a good coordinator of the interests of the developing countries.
With regard to U.S. dollar supremacy, well, this is a fact…that the most of the world trade is financed through U.S. dollars. Brazil is not different. Most of our exports and imports are traded based on the U.S. dollar. But, there are other currencies that are becoming more important on our international trade. In euros, in Japanese yen, in Chinese yuan… but this takes time. I believe for many reasons, for financial reasons, you have to diversify your foreign currencies. So, you do not have to take so many risks. When there is a problem in one country, you can have part of your transactions in another currency, so it is good to diversify not only for political reason, but also for financial and economic trade reasons. You know, Brazil is considered a global trader. It has a very well-distributed trade. We have not concentrated on one market. Some countries depend a lot on the market of the United States, for example or depend a lot on the on the market of China or the European Union. Brazil has good distribution. You know, our main partner is China, with 23 or 24 percent of our bilateral trade. Then comes the EU with 21 or 22 percent and the United States with 20 percent, then Latin America with another 20 percent. So, our bilateral trade is very well distributed.
Therefore, we believe we would benefit if we have diverse currencies in our bilateral trade. With Argentina, we are dealing with our local currencies. We are also negotiating with China as well on using our currencies in our trade. So, step by step, we are finding other ways for our transactions, because of not only political reasons but also because of safer financial transactions it is important to diversify your currencies and your trade partners.
Q: Would you please tell us about the bilateral economic relations between Iran and Brazil. In what fields, are the Brazilian companies active in Iran's economy? What are the prospects for bilateral trade relations?
A: Well, our bilateral trade with Iran is almost $ 3 billion dollars. To be more precise, it has reached $ 2.7 billion dollars. Most of this amount are Brazil's exports to Iran. And the main commodities are agricultural products like beef, soya, corn, sugar. But there are also other things for example medical equipment, buses, and tracks. ... So, there are other products, industrial goods, and we would like to see more industrial services.
Since I moved to Tehran, we have been working with different manufacturer associations and industries in Brazil…Brazil has very good and competitive technologies for medical equipment at reasonable prices. We are working with a lot of companies and hospitals here in Iran to be part of the investment projects in Iran… to modernize or build new hospitals, for example, with Brazilian equipment…
Also, in oil and gas sector, Brazil has a well-developed industry in manufacturing equipment and engineering services in oil and gas sector. In Brazil, we have developed the oil production very fast. We have a good group of industries that can cooperate with Iran. Iran as well has made progress in oil and gas sector and it can cooperate with Brazil. So, it is on the two ways… In terms of agricultural machines sector, Brazil is very good at agriculture. We have very good machines and equipment for agriculture… in the field of urban transportation like buses and trucks, we believe that we can cooperate more with Iran. Now, there are lots of contacts between Brazilian companies and their Iranian counterparts…. In agriculture area, there will be more bilateral cooperation…Iran used to import a lot of chicken and poultry from Brazil but it stopped 5 or 6 years ago, because it started to produce its own products. But it still needs corn to feed its poultry….so, they are buying more corn from Brazil and soya as well for different industrial use. Therefore, the agricultural cooperation will continue and you would like to bring more industrial products and services to Iran. Also, on the other way around, in Brazil we can see a lot of interests in Iranian products such as chemicals, fertilizers. You know, there is a good room for Iranian petrochemical and fertilizers … but, the Iran's exports to Brazil is very low. So, Iranian businessmen need to go to Brazil more, to have more contacts with Brazil… We have also Brazilian companies who want to import from Iran.
In terms of investment, maybe some of those projects result in investment in the long run. But for the time being, we are talking about trade. But in the medium and the long run, we talk about investment. Some of those projects are very big, urban transportation for example, or medical equipment, so if the deals are done in a good way and they see the good high potential as I see, they would be ready to invest…to establish long term partnerships…Therefore, we believe that some of those projects will result in good investment.
Q: Given the fact that the U.S. withdrew from the JCPOA, how do you see the prospects of business and cooperation with Iran? Will Brazil take some measures to confront the U.S.?
A: Well, I would not say to confront with the U.S. Brazil is taking the measures to follow the JCPOA agreement. The JCPOA, for us is still valid. We follow the United Nations' resolutions. We do not follow other countries' unilateral decisions. I think it is very important to highlight that even before the JCPOA, Brazil was supporting Iran. You remember the Tehran Declaration when Brazil alongside Turkey and Iran were trying to find a good diplomatic solution for the nuclear dossier. At that time, few countries were on the side of Iran, but Brazil was here. You know, that is very important to highlight. After the JCPOA, everybody wanted to do business with Iran…So, it is not like that the U.S. alone takes a decision and we are not going to support Iran. We have more reasons to support Iran because Iran has been fulfilling its commitments to the JCPOA…the IAEA has verified Iran's abidance by its commitments, other parties of the agreement are saying this. So, we believe the JCPOA is a very important agreement that has to be in place not only to the benefit of peace in the world but also it helps the non-proliferation regime. So, Brazil has always been in favor of nuclear negotiations…
We have very good relations with Iran. Meanwhile we also have very good relations with the U.S., but we think they are not right on this issue. We would like to follow the JCPOA.
In terms of measures, for us, the business is as usual. It did not affect us in terms of the government…For us in the government, we are still looking for developing economic cooperation with Iran in both ways… we are doing our best efforts in the banking relations, in financing, in bringing in new businesses in looking for cooperation, in science and technology, in every field. So, for us it is the same as usual and nothing will change for the Brazilian government.
On the other hand, for Brazilian companies it is the same as well. Meanwhile, they have some exposure to the U.S. They are thinking twice, because they have to check whether this makes a problem for them or not. In this case, we cannon intervene, because it is their decision… It is not the government that is doing business, it is the private sector to decide. Of course, we have to provide them with facilities and try to facilitate to promote, to have agreements, and we are doing these….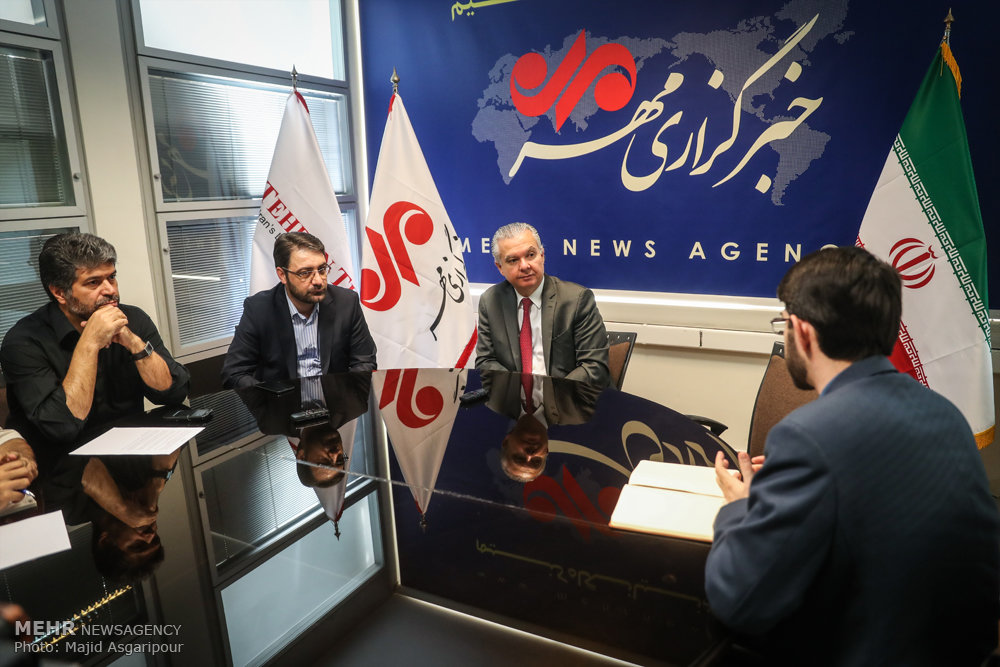 For us as the government, we are still looking for building bridges between Brazil and Iran not only politically, but also cooperation on trade, on economic and science and technology, on everything. So, people who want to cross these bridges will be welcome. Maybe, there are some people who hesitate to cross the bridge, we will help them to show them the way. But that is their own decision. You know, that's what I am saying… There are lots of Brazilian companies who engage in business with the U.S., so maybe they will have problems if they come to Iran, but there are many other companies that do not have any exposure to the U.S., and you can do a lot of business with them. So, I believe we have a good room to go ahead in all fields that I told you earlier, like oil and gas, engineering services, medical equipment, food and agriculture industries. Well, food and agriculture products were never under sanctions because of humanitarian concerns. So, I believe our cooperation in agriculture field will continue. We will follow up…We are also working on some financial mechanisms to facilitate our transactions. So, that is the job that we want to do…I am still optimistic about the level of economic cooperation that we can have with Iran.
Q: We would like to ask about Iranian foreign minister Mohammad Javad Zarif and his large politico-economic delegation's visit to your country earlier this year? Was it a fruitful visit? What were the achievements?
A: His visit was very fruitful. It was very important to have Dr. Zarif in Brazil. We had been trying for some years [to have him there], but because of busy schedules here and there, we did not manage to have him there. But finally we could have him there. It was an honor and pleasure to have Dr. Zarif there. We had very good talks between the two sides. He was accompanied by a large economic delegation. Some of those sectors that I mentioned above were represented.
we had talks about our financial cooperation and mechanisms…our bilateral relations progressed even more during Dr. Zarif's visit to Brazil. We hope, we can establish a bilateral mechanism that can facilitate our business. We are working very hard on this and Dr. Zarif's visit really helped it. And also we held talks on other kinds of cooperation. There was also a group that got together on science and technology. It was our first meeting of our working group in the field of science and technological cooperation. They met during Dr. Zarif's visit as well…There was a positive attitude shared by both countries' ministers of agriculture.
We also exchanged views on the political issues in our regions. What is going on in South America and the Middle East? We shared common views with Iran about the world politics, about what's going on in our regions. So, it was a very successful [visit]. Some agreements were signed in judicial cooperation, for example, and also on the cooperation between our academic centers for exchange of students, on the events that we can organize together. So, it was a very positive and very fruitful visit.
In response to a question about the Brazil's chance for wining this year's World Cup, the ambassador said that he was not so sure that Brazil could win the World Cup, adding that there were very good teams in the tournament that play very high level football.
He then wished success for national Iranian team, saying it can qualify for the next stage by securing a draw with Portugal and winning Morocco.
At the end of the interview and in response to a question as to what happened following the impeachment of former Brazilian President Dilma Rousseff and sentencing another socialist president Lula da Silva, the ambassador said that their cases were a good test for the democratic judicial institutions in Brazil, stressing that they could put the country back on the right track and helped the economy recover from the political turmoil.