Iran does not need to extend range of missiles over 2000 kilometers: IRGC chief
June 19, 2018 - 19:27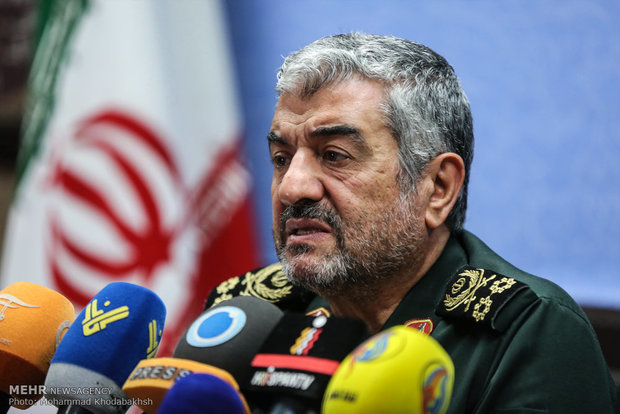 TEHRAN – The commander of the Islamic Revolution Guards Corps (IRGC) said on Tuesday the range of Iranian missiles is 2000 kilometers and the country does not need to extend it.
"Our defense capabilities are based on domestic scientific jihad. The range of our missiles is 2000 kilometers. All are aware that we are able to increase the range of our missiles, but our policy is missiles within range of 2000 kilometers and we can reach our strategic objectives within this range," Mohammad Ali Jafari said at a ceremony at the University of Tehran.
The major general said that the U.S. seeks to weaken Iran's defense and missile capabilities.
Jafari also strongly criticized those have proposed direct between Iran and the U.S, saying such proposals originate from these people's "ideological principles".
Recently about 100 political and civil rights activists wrote a letter calling on Iran and the U.S. to hold talks without preconditions.
"If these people cannot be called crazy they are misguided".
The IRGC chief also said that Iran has been successful in defense and security areas.
In an official note on May 8 President Donald Trump withdrew the U.S. from the 2015 nuclear deal. He has said that another nuclear deal which includes Iran's missile program should be negotiated.
Also, in his speech at the Heritage Foundation on May 21, U.S. Secretary of State Mike Pompeo demanded that Iran halt all uranium enrichment, stop its ballistic-missile program and give nuclear inspectors access to the entire country.
Iran has repeatedly said that its missile program is for defense and deterrence purposes and poses no threat against other countries.
Elsewhere, Jafari noted that Iran has made great successes since the 1979 Islamic Revolution.
"The victories of the Resistance Front in Syria and Iraq are results of following the Islamic Revolution," he said.
'Victory in Yemen is close'
The top general also said that the victory of Yemeni forces against invaders is close.
"Today, we are witnessing the European and Saudi forces' defeat in the Yemeni port of Al Hudaydah," he said.
The Saudi-led military push to seize Hudaydah, which began last week, has been met with stiff resistance by the Houthi movement and its allied forces, Press TV reported.
NA/PA