Domestically produced hemodialysis machines hits market in Iran
June 25, 2018 - 9:26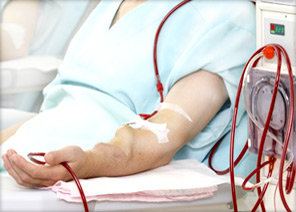 TEHRAN – Hemodialysis machines designed and produced by Iranian scientists have entered the market,director for an Iranian knowledge-based company operating in the field of hemodialysis products has said.
The private sector invested some 120 billion rials (nearly $2.8 million) on designing and manufacturing these machines, Behrouz Sabok-Dast said, Fars reported on Saturday.
Sabok-Dast also said all parts used in the machine have been designed and manufactured domestically. "Additionally the machine's software has been developed and engineered by Iranian knowledge-based companies."
The Ministry of Industry, Mine and trade has issued permits for manufacture of 1,000 dialysis machines per year, he stated.
Some of the machines are now commercialized, SabokDast said, adding that so far some 70 hemodialysis machines have been installed in over 10 health centers located in 4 cities of Sarpol-e Zahab, Qom, Tehran and Hamedan.
Purchasing Iranian products should become a priority as domestic products cost 20 percent cheaper and require lower maintenance costs, he highlighted.
A hemodialysis machine used in dialysis that filters a patient's blood to remove excess water and waste products when the kidneys are damaged, dysfunctional, or missing. The dialysis machine itself can be thought of as an artificial kidney.
According to an article titled "Quality of life of patients with chronic kidney disease in Iran" published in Indian J Palliat Care Journal on Jan-March, 2018, the incidence of chronic renal failure in the world is 242 cases per a million people, and 8% is added to this population each year. The population of patients with renal failure in Iran is 320,000.
One of the ways to improve the condition of patients with chronic renal failure is hemodialysis. In addition to hemodialysis, peritoneal dialysis and kidney transplantation are the common alternative treatments. The patients undergoing dialysis have to spend several hours of their lives in dialysis sessions.
FB/MQ