Sanctions have turned into opportunity: Iran's defense chief
July 10, 2018 - 19:39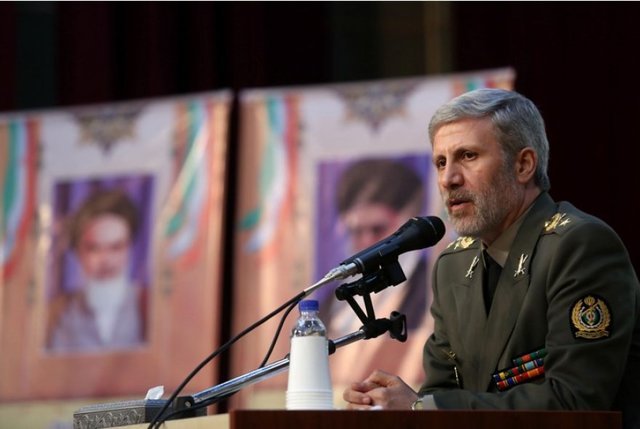 TEHRAN – Defense Minister Amir Hatami said on Tuesday that the U.S.-led economic and financial sanctions against Iran have turned into an opportunity, making the country more self-reliant.
"Sanction and financial threats have turned into opportunity for us, because they have led to self-reliance and strength of domestic capacities which can be a model for all other freethinking countries," Hatami remarked.
He also said the ruling system in Iran is "people-based" and the people's welfare is redline.
"The people's welfare is our vital interest and redline, because the Islamic Iran has a people-based system. The armed forces… are ready to serve in line with the nation's welfare and interests," he said during a conference of the Defense Ministry's senior managers.
He noted that the hegemonic system seeks to distance the people from the establishment through a "psychological warfare".
However, the minister said, Iran has passed various difficulties during the past 40 years and today the country is more united and integrated.
"Today, enemies of the Islamic Iran seek to create dissatisfaction in the society through portraying the system's points of strength as weakness and focusing on economic war while the Islamic system is steadfastly moving on the path of progress," he said.
The defense chief also said that the U.S. has adopted the "tactic of causing distance between the people and the system" to harm the country after finding that it cannot reach its objectives by imposing sanctions.
He added that "external pressure and internal collapse" is another strategy of the enemies but Iran has great capacities to withstand such plots.
President Donald Trump withdrew the U.S. from the 2015 nuclear deal on May 8 and plans to re-impose sanctions on Iran.
U.S. Secretary of State Mike Pompeo announced in May that U.S. will apply economic and military pressure against Iran and will impose "the strongest sanctions in history" on the Islamic Republic.
NA/PA