$1.1m earmarked for rehabilitation of buses in Tehran
July 21, 2018 - 9:4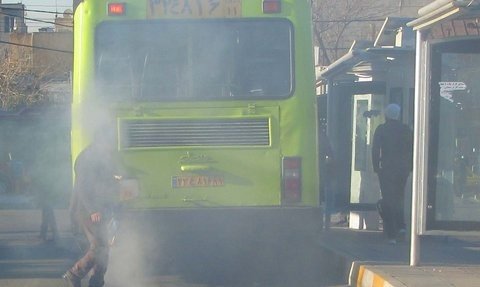 TEHRAN – Tehran Municipality has allocated a total budget of 50 billion rials (nearly $1.1m) to rehabilitate Tehran's bus transport fleet, Tehran bus operating company's director general has said.
A weekly meeting is organized to be held aiming at reducing emissions produced by buses in the capital, Mehr quoted Peyman Sanandaji as saying on Wednesday.
It is scheduled that all buses running in Tehran would receive vehicle inspection certificates by September 23, he stated.
In the aforesaid meeting a budget of 50 billion rials (nearly $1.1m) is anticipated to be allocated for renovating clunker buses in public transportation system, he further added.
Referring to the meeting held with the Industrial Development & Renovation Organization of Iran (IDRO), he said that an agreement has been reached at the meeting [regarding rehabilitation of the old public transport system].
According to a law approved by the cabinet relating to purchasing new buses, it has been planned that some 50 percent of the total costs of buses must be covered by the government, and the rest will be paid by the owner, Sanandaji explained, adding that owners can also receive loans which will cover 30 percent of the buses' total price.
Since July 17, bus owners can register on the Ministry of the Interior's website so that the public transport buses rehabilitation process goes into effect, he concluded.
Tehran is fed up with air pollution, which occurs when harmful or excessive quantities of substances including gases, particulates, and biological molecules are introduced into Earth's atmosphere.
Among numerous reasons behind air pollution the transport sector, mainly buses operating on fossil fuels, can be deemed as one of the guilty parties.
Globally transportation accounts for about 21 percent of greenhouse gasses. The International Energy Agency (IEA) has predicted that transport sector emissions of carbon dioxide will increase by 92 percent between 1990 and 2020. Most importantly the age of the transport fleet, the technology used within it and the extent to which such vehicles are maintained as well as the availability of appropriate fuel can decide the amount of emission attributed to the transport sector.
According to news pieces quoted from various health or environmental officials over 70 percent of pollutants in Iran's capital, Tehran, is produced by clunker buses. In a press conference held on January 13 in Tehran, deputy environment chief Masoud Tajrishi said that some 97 percent of buses in Tehran are old.
FB/MQ/MG