Scrapping clunker cars, heavy-duty vehicles key measure to ease air pollution
December 1, 2018 - 0:16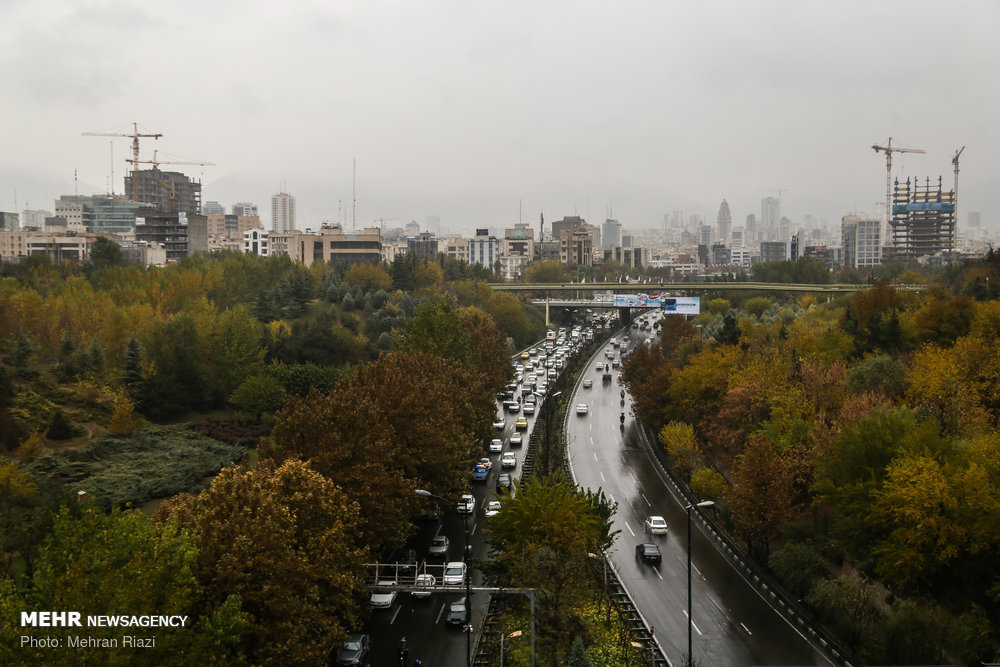 TEHRAN — In combatting air pollution, the key measure is to scrap clunker cars and heavy-duty vehicles, Masoud Zandi, head of the national center for air quality and climate change affiliated with the Department of Environment, has said. 
Within the framework of LEZ (Low emission zone) scheme the number of traffic enforcement cameras increased from 300 to 2,000 which would definitely affect air quality in the capital, IRIB quoted Zandi as saying on Thursday.
The scheme is aiming at reducing traffic emissions in Tehran. LEZ is a defined area where access by certain polluting vehicles is restricted or deterred with the aim of improving the air quality. This may favor vehicles such as hybrid electric vehicles, or zero-emission vehicles such as all-electric vehicles.
To bring LEZ scheme into effect all the vehicles in Tehran were required to get inspection stickers indicating the level of emission they produce which are easy to track down by the traffic cameras thanks to the newly integrated vehicle inspection system. The first phase of the scheme Tehran which went into effect on September 5, 2016, focused on mitigating air pollution in the metropolis, which was running from 6 a.m. to 7 p.m. each day except for holidays.
The second phase of the scheme running 24-7 in the metropolis of Tehran launched on October 23.
The newly-installed traffic enforcement cameras would help in controlling vehicles inspection stickers more effectively, he added.
Zandi went on to say that last year (March 2017-March 2018) heavy-duty vehicles including buses which released great amounts of emission in the city were plying the city but this year they are all required to receive inspection stickers showing they are meeting emission standards.
Currently clunker heavy-duty vehicles are not permitted to ply the city and cannot be sold earthier, he highlighted, adding that they were the main source of air pollution particularly during cold seasons.
According to a report by World Bank published in April 2018 there are about 4.24 million vehicles in Tehran. Cars are the largest vehicle type, with a total fleet of 3.37 million, or 80 percent of all vehicles. Of all cars, 90 percent are passenger cars, 8 percent are pick-ups, and only 2 percent are taxis. The second largest category, in terms of sheer numbers, are motorcycles, amounting to a total of 0.76 million, or 18 percent of total vehicles. The smallest category is heavy-duty vehicles, with a total of 0.1 million vehicles, or about 2 percent of total vehicles in the streets of Tehran.
Even though cars are the most abundant and the most congestion-causing vehicle type on the streets of the capital, they only contribute to about 3 percent of the city's mobile PM pollution. Similarly, despite motorcycles being the most pollution intensive vehicle per passenger, they only contribute to about 12 percent of the total mobile PM emissions.
In turn, heavy-duty vehicles contribute to about 85 percent to mobile PM emissions. Amongst heavy-duty vehicles, private sector buses (35 percent), followed by Tehran municipal buses (28 percent), and trucks (28 percent), hold the largest shares of the causes of pollution. Heavy-duty vehicles mostly run on diesel, which has a much higher PM emissions factor than petroleum or natural gas.
MQ/MG