Bike ridership fivefold in Tehran, says environmentalist 
December 21, 2018 - 20:33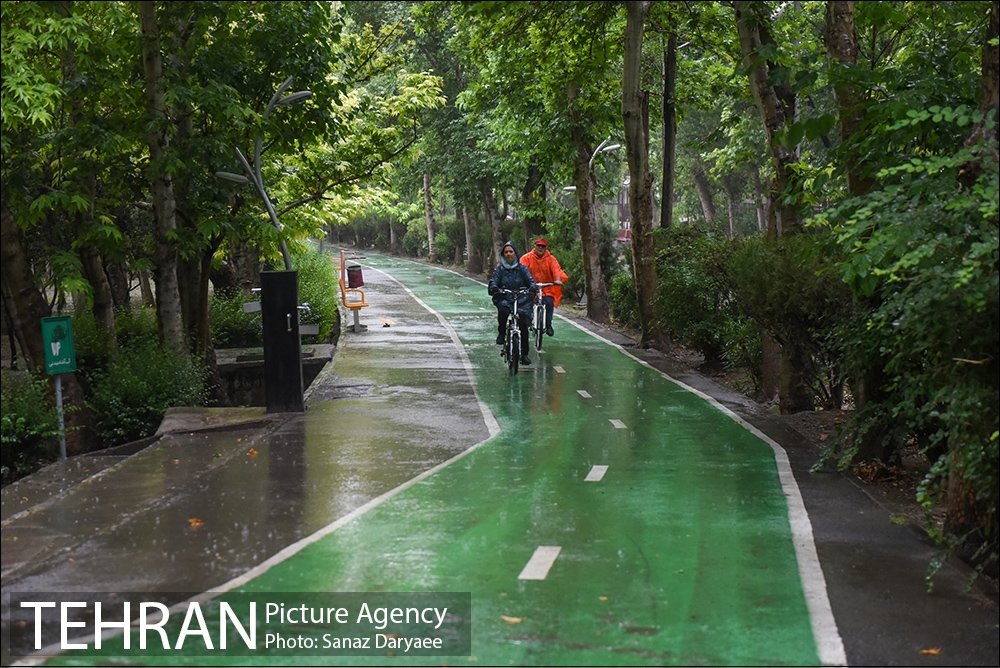 TEHRAN — Bike ridership in districts 6 and 12 of Tehran has increased from 60,000 a day to 300,000 a day over the past few years, environmentalist Mohammad Darvish has said.
The board member at Research Institute of Forests and Rangelands explained that developing safe bike lanes in the area has led to the increase in the number of bike ridership.
Commenting on the bike-sharing scheme, proposed by an Iranian startup through a system based on Internet of Things (IoT), Darvish said that the success of the scheme depends heavily on the development of necessary infrastructure for safe cycling in the city.
Bike-sharing scheme was first introduced by the Iranian startup Bdood in mid-August in an attempt to address air pollution in the metropolis of Tehran. On December 18 some 300 bikes have been inaugurated in district 2 of the capital.
It's best for such schemes to be implemented in traffic zones and in streets with a lower gradient, so that citizens can get to their destination easily and as quickly as possible, YJC quoted him as saying on Thursday.
The bikes must be modern with gear system which make riding it easier, however, low quality bikes has made citizens reluctant to use them, he lamented.
Nonetheless, in district 6 and 12 of Tehran with bike lanes users can safely ride along the area, Darvish highlighted.
Moreover, the fact that Tehran mayor [Pirouz Hanachi] has been using public transport or cycling to his office (since he was appointed on November 28) on car-free Tuesdays, can encourage the citizens to do the same.
'Car-free Tuesdays' campaign kicked off in 2016 by Mohammad Bakhtiari, a member of a local NGO with 1,000 members known as "the guardians of the environment of Arak city".
It aimed to decrease the number of private cars in the cities hence mitigate air pollution.
Darvish went on to say that as per an order issued by the mayor all 22 districts of Tehran should develop infrastructure for safe cycling and public transport.
NGOs active in the field of environment should be allowed to have a part in urban management so that they can act more effectively in encouraging the public in using public transport and cycling, he concluded.
According to scholaradvisor.com the average car produces about 1.3 billion cubic yards (1 meter is equivalent to 1.0936 yards) of polluted air over the course of its lifespan.
Worn tire particles, brake garbage and the emissions from the plastic and other materials in the car also contribute to air pollution. Bikes, on the other hand, don't present this problem and opting to ride instead of drive is a very powerful way to cut back on the pollution you produce over the course of your day.
Secondly, manufacturing a bike takes far less energy than assembling a car. Factories use energy to create their products and emissions into the air goes along with this. Estimates show that several tons of waste and nearly 1.2 billion cubic yards of pollution are produced for each car that is manufactured. Painting the cars adds about 40 million pounds of pollutants into the air.
Even when considering hybrid cars, bikes are still more environmentally friendly. Hybrid cars are still much larger than a bicycle and still require a battery, which clearly has known carcinogens.
According to the latest air quality database by World Health Organization (WHO), 97% of cities in low- and middle- income countries with more than 100,000 inhabitants do not meet WHO air quality guidelines. However, in high-income countries, that percentage decreases to 49%.
As air quality declines, the risk of stroke, heart disease, lung cancer, and chronic and acute respiratory diseases, including asthma, increases for the people who live in them.
MQ/MG