Police on bikes in central Tehran to promote bike-riding
March 15, 2019 - 20:31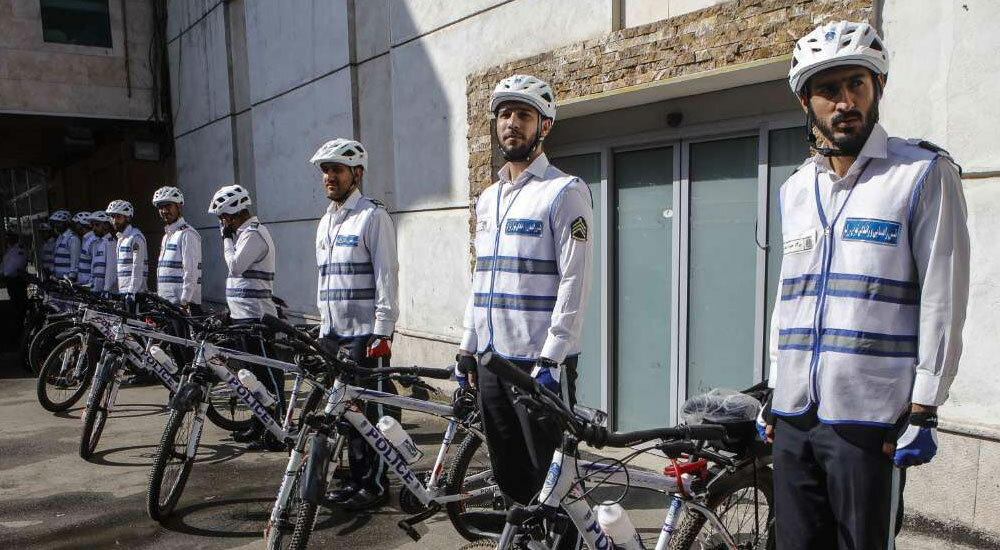 TEHRAN — In an attempt to encourage bicycling among citizens of Tehran Traffic police has started using bikes instead of motorbikes, Mehr news agency reported on Friday.
In the current year (started on March 21, 3018) Tehran Traffic Police, aiming to promote best traffic practices, especially in crowded neighborhoods, have started a pilot plan letting traffic police to use bikes instead of other vehicles in districts 6 and 12 of Tehran, the director of public education at social directorate of Tehran Traffic Police said.
The plan was organized in collaboration with Tehran Municipality directorate for transport and traffic affairs, Seyyed Moslem Mousavi explained.
The scheme is planned to be implemented in two more districts in the next year (starting on March 21), Mousavi added.
The scheme can play a role in tackling air pollution and encouraging the public to use bicycles especially in central parts of the city, he suggested.
Moreover, Mousavi added, implementing the scheme would help traffic officers to attend at the scenes sooner and make police officers more easily approachable, most importantly in areas which are highly congested.
Also using bicycles would not entail the traffic officers to follow traffic laws, for instance they can take one way streets provided that they get off the bicycle and walk along the street, he highlighted.
Mousavi went on to say that using bikes especially in crowded neighborhood makes it much easier for the traffic officers to get to their destination.
As traffic police we want to promote the culture of bicycling among the public, he noted, stating that bicycles are eco-friendly options.
"The scheme has gone into effect in other provinces such as Mazandaran, Gilan, Isfahan, Yazd and Kish Island."
Police officers adopted the bicycle late in the 19th century, initially using their own. However, they eventually became a standard issue, particularly for police in rural areas. The Kent police purchased 20 bicycles in 1896, and by 1904 129 rural police bicycle patrols were operating.
Some countries retained the police bicycle while others replaced them with motor vehicles. In the 21st century there has been renewed interest in police bicycles, since they provide greater accessibility to bicycle and pedestrian zones and allow access when roads are congested.
Police-on-bikes visibly advertise bicycles as ideal urban vehicles. If bicycles can function as instruments of the law, then surely they can handle trips to the store and elsewhere.
MQ/MG