IoT bikes roll into streets of the capital
December 18, 2018 - 21:32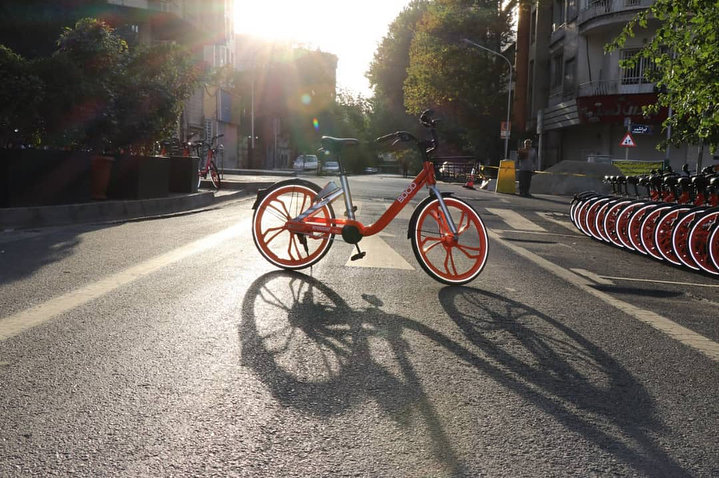 TEHRAN – New bikes based on Internet of Things (IoT) were placed for the first time on Tuesday into stations for use in Tehran, ISNA reported.
Some 300 bikes have been inaugurated in district 2 of the capital, the district's mayor, Rasoul Keshtpour, announced.
IoT-based bikes are a way to make Tehran a smart city, in which the quality and performance of services such as energy, transportation and utilities are enhanced in order to reduce resource consumption, wastage and overall costs, he added.
Due to intense air pollution, development of green transportation in Tehran is a must, so that bike-sharing scheme went into effect with initiatives to mitigate air pollution along with encouraging people to use green vehicles rather than emitting private cars," he highlighted.
He went on to say that with participation of residents, the number of bikes will be expanded and more regions will have stations offering IoT bikes.
Reza Baqeri, head of board of directors at Bdood Company, for his part, said that some 13,000 people have installed the app, and 540 users so far have paid the deposit of 1.59 million rials (about $38), adding, each half an hour riding the bikes costs nearly 3 cents.
Bike-sharing scheme was first introduced by the Iranian startup Bdood in mid-August in an attempt to address air pollution in the metropolis of Tehran.
According to World Health Organization exposure to air pollution kills seven million people worldwide every year and costs an estimated $5.11trn in welfare losses globally, a report released last week revealed.
It highlighted that in the 15 countries that emit the most greenhouse gas emissions – and have the worst air pollution – health impacts are estimated to cost more than 4% of GDP.
Air pollution affects all regions of the world. However, populations in low-income cities are the most impacted. According to the latest air quality database, 97% of cities in low- and middle- income countries with more than 100,000 inhabitants do not meet WHO air quality guidelines. However, in high-income countries, that percentage decreases to 49%.
FB/MQ/MG