Zarif says U.S.-Israel Iranophobia project has been defeated
Zarif: Still no European practical action to save nuclear deal
July 22, 2018 - 21:8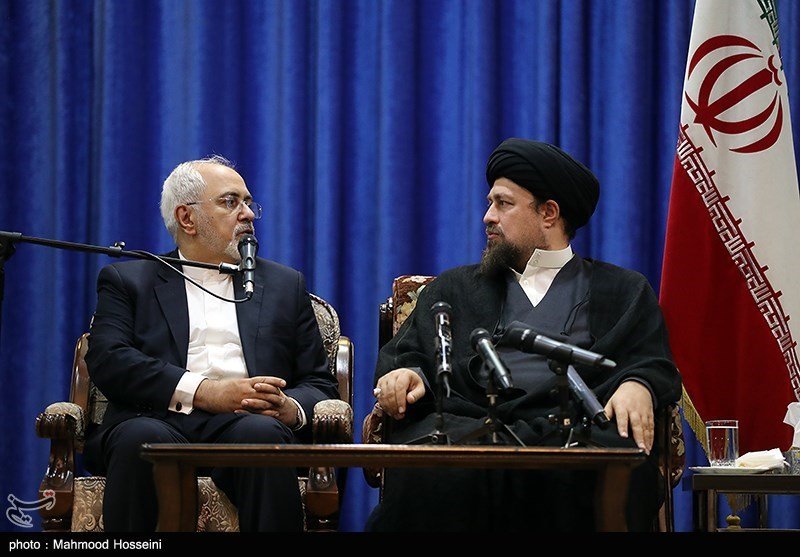 TEHRAN – Iranian Foreign Minister Mohammad Javad Zarif said on Sunday that remaining parties to the 2015 nuclear deal have so far failed to take "practical actions" to save the agreement known as the Joint Comprehensive Plan of Action.
"In addition to issuing statement, the Europeans should take practical actions to preserve the deal," Zarif insisted.
The foreign minister made the remarks as he and other Iranian diplomats, who have gathered in Tehran for an annual gathering, visited the shrine of Imam Khomeini to renew allegiance to the causes of the Islamic Revolution.
"We have not still witnessed enough practical actions by the Westerners and remaining parties to the JCPOA," he added.
The Joint Commission of the JCPOA met at the foreign ministerial level in Vienna on July 6. European Union foreign policy chief Federica Mogherini, who chaired the meeting, announced that Iran and the remaining parties to the nuclear agreement had agreed to continue negotiations, including on economic measures, over how to save the deal.
Zarif said talks with the Europeans will continue; however, he said, Iran will not remain idle waiting for the European package.
Under the nuclear agreement Iran agreed to put limits on its nuclear activities and accept tough inspections in exchange for termination of economic and financial sanctions. Since the deal went into effect in January 2016, the International Atomic Energy Agency (IAEA) has issued 12 reports each time confirming that Iran is fully abiding by the terms of the agreement.
Zarif said the nuclear deal defeated the demonization of Iran.
"It can be said that our strategic achievement in the JCPOA is seen in defeat and isolation of the Zionist regime and Benjamin Netanyahu [the Prime minister of Israel]," noted Zarif who was a key figure in crafting the nuclear agreement.
He added that the U.S. and Zionists have been isolated in following the policy of Iranophobia and even their closest allies are not accompanying them in this respect.
Elsewhere, he noted that the Trump administration is exerting economic pressure against Iran and make the country "surrender".
These efforts are actually aimed at a "collapse of Iran" and not just the Islamic republic system, he opined.
Trump withdrew unilaterally from the JCPOA on May 8 and ordered restoration sanctions against Iran.
According to the U.S. Treasury, the first batch of sanctions will be snapped back in August and the second batch in November. Trump has asked countries to cut their oil imports from Iran by November.

NA/PA