Syed Zafar Mehdi
Can Pakistan's new PM resolve the Kashmir issue?
August 2, 2018 - 11:5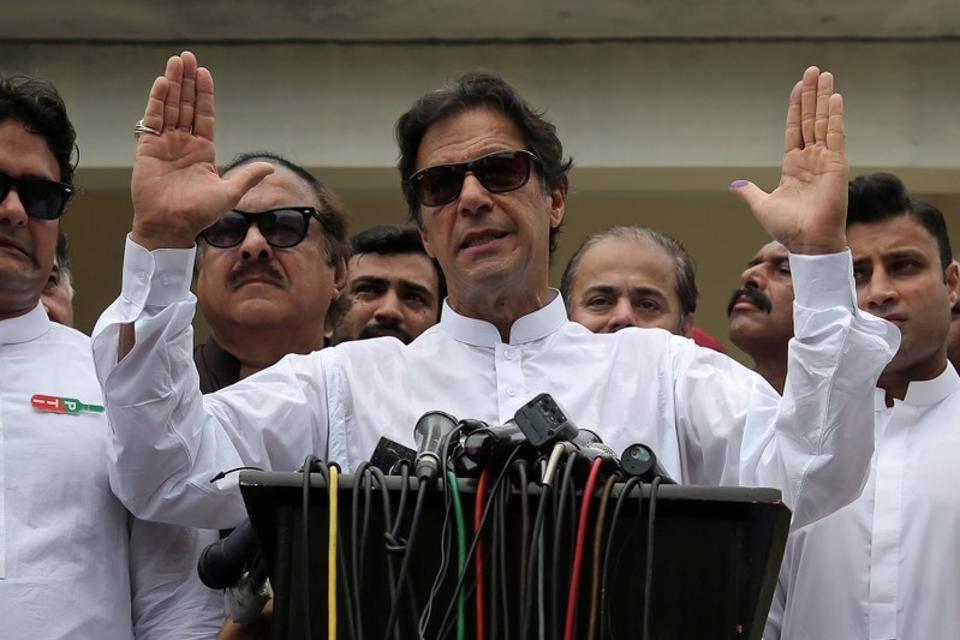 TEHRAN -After his thumping victory in Pakistan general elections, Pakistan Tehreek Insaaf (PTI) chief Imran Khan, known for his articulateness and razor-sharp political acumen, delivered a lengthy speech, outlining his vision for Pakistan, his foreign policy and how he plans to combat the scourge of corruption. He also spoke about his desire to improve ties with India and resolve the long-standing dispute over Kashmir.
Describing Kashmir as the "biggest contention" between the two South Asian estranged countries, the cricketer-turned-politician who has massive following in Kashmir, said the blame-game between India and Pakistan must stop and the two sides must make serious efforts to find a way out of the logjam.
"There have been human rights violations for over 30 years, and the people of Kashmir have suffered massively. The leadership of Pakistan and India now need to come to the table to resolve this and end the blame games," Khan said, choosing his words carefully. "We are stuck at square one. If India comes and takes one step towards us, we will take two steps toward them. Right now it is one sided where India is constantly just blaming us."
The statement struck a chord with peaceniks in both India and Pakistan, who have been campaigning hard for the final settlement of Kashmir. Top Indian politicians also welcomed the statement. Indian Prime Minister Narendra Modi, who didn't share a particularly warm relationship with Khan's predecessor, congratulated the incoming Prime Minister of Pakistan and said the two countries were ready to enter a new phase of bilateral relations.
In their telephonic conversation, Khan was quoted saying to Modi that the solution to conflicts should be found through dialogue. "Instead of answers to conflicts, wars and bloodbath give birth to tragedies," the PTI chief said, according to a statement released by his office, adding that the two governments should devise a joint plan of action to free people of both countries from the cruel trap of poverty.
In a statement, Indian government said it desires a "prosperous and progressive Pakistan at peace with its neighbors". "We hope that the new government of Pakistan will work constructively to build a safe, stable, secure and developed South Asia free of terror and violence," the statement said.
Khan's statement was also welcomed in Kashmir, across the political spectrum. The former J&K Chief Minister Mehbooba Mufti expressed hope that it would lead to a sustainable thaw in relations between the two countries. "Hope this goes beyond the optics and leads to a sustainable thaw between India and Pakistan," Mufti, who heads People's Democratic Party (PDP) in Kashmir, wrote on Twitter.
Earlier, speaking at a party convention, Mufti had appealed to Modi to accept the hand of friendship and dialogue extended by Khan. "It is my request that he should grab the opportunity and respond positively to the offer of friendship by Imran Khan," she said. Pertinently, the coalition government in Kashmir between Mufti's PDP and Modi's BJP broke off last month over some irreconcilable differences.
Omar Abdullah, who heads National Conference party in Kashmir, also welcomed Khan's statement that he will take two steps forward if India took one step to end the conflict over Kashmir. "We have to wait for him to be sworn in. Whatever he said on Thursday about taking two steps forward for every one step India takes, it sounds good but a lot will depend on the action he is willing to take," said Abdullah.
Top separatist leaders, including Mirwaiz Umar Farooq and Syed Ali Shah Geelani, also welcomed Khan's statement. Umar said the two neighbors should "give real peace a chance" and Geelani said it was now "time for India to reciprocate."
As it appears, a good start has been made to resurrect the stalled peace process and resolve the dispute over Kashmir, which has forced the two nuclear-armed neighbors to go to war on two occasions. With the intermittent border skirmishes and ceasefire violations, the third war between the two countries has been looming large. To avert that, it is important for the two warring neighbors to shake hands.
However, it remains to be seen whether or not the military establishment in Pakistan gives Khan a free hand in foreign policy matters. In an interview with Tehran Times, Pakistani commentator and author Ayesha Siddiqi said Khan would most likely stick to the status-quo which is the policy of the military establishment. Also, there would be general elections in India next year, and the ruling BJP government in New Delhi would be wary of initiating any deal with the new government in Pakistan before elections.
Khan won't find it easy, as his predecessors didn't. He has to overcome internal as well as external pressures to engage with India on the issue of Kashmir. But he has made a good start and now the ball is in New Delhi's court. India missed a great opportunity to settle the Kashmir dispute when Pervez Musharraf ruled Pakistan between 2001 and 2008. It should not miss another opportunity now.