ISIS war against Shias in Afghanistan gathers momentum
August 7, 2018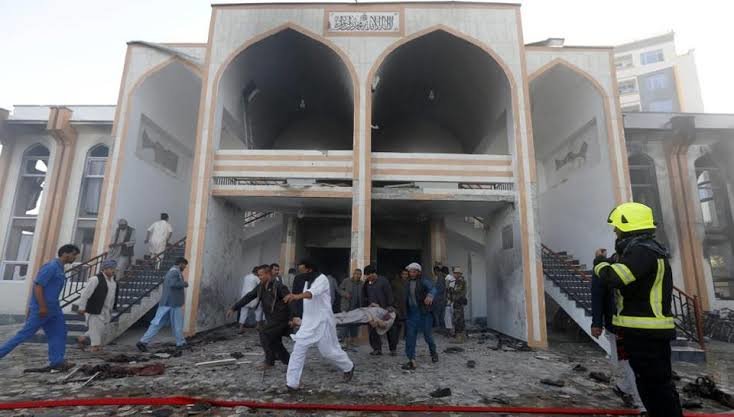 TEHRAN - With heavy hearts and moist eyes, mourners laid to rest the victims of twin suicide attack on a Shia mosque in eastern Afghanistan on Saturday. The death toll in the deadly attack, according to local officials, was 35.
The suicide bombers, wearing women's dress, barged inside the mosque in Gardez, the capital of Paktia province, on Friday and detonated their explosives at the time of congregational Friday prayers.
It is the latest in a series of attacks on Shia people and their places of worship in Afghanistan. Most of these attacks have been carried out by the ISIS.
Haji Sultan, 70, who attended the funeral of blast victims, accused the government of "negligence" in providing security for the Shia minority. "The enemies of Afghanistan want to create division by carrying out attacks on Shia people, but they cannot win, it will further increase hatred towards the enemies," he told AFP.
Although no group immediately claimed responsibility for the attack, it is widely believed that the ISIS is behind it. The attack comes amidst escalation in violence across the country and pitched battles between the Taliban and ISIS in northern Afghanistan.
But what's striking about the latest attack is that the target were members of minority Shia community. It's not the first time they have been targeted by the ISIS. Many Shia mosques in Kabul and various provinces have become the target of ISIS over the past few years.
The dangerous spiral of sectarian bloodletting in Afghanistan has assumed alarming proportions since the advent of ISIS, also known by their Arabic acronym Daesh. Their hatred for Shias has a historical background. "ISIS fighters and their ideologues take inspiration from those fanatics who carried out the murderous assault on Hazrat Ali in Kufa mosque, hence we see these attacks on Shia mosques," says a Kabul-based analyst, wishing anonymity.
ISIS has reportedly claimed that they attack Afghan Shias because of their involvement in the Syria war. "Unless they (the Afghan Shias) stop going to Syria and stop being slaves of Iran, we will definitely continue such attacks," a top ISIS commander told Reuters a few years ago. Hundreds of Hazara Shias from Afghanistan are fighting in Syria as part of the Liwa Fatemiyoon force.
However, the more plausible reason behind the unrelenting attacks on Afghan Shias is the fact that their religious beliefs clash with the radical Islamism propounded by ISIS ideologues, believe observers.
Pertinently, the intelligence officials of Iran, Pakistan, China and Russia recently met in Pakistan to evolve a joint strategy to fight the menace of ISIS in Afghanistan-Pakistan region.