After quadrilateral meet on ISIS, group kills 132 people in Pakistan attacks
July 15, 2018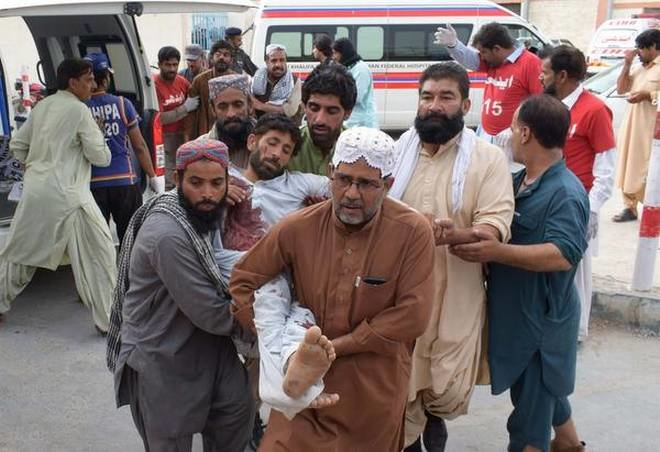 TEHRAN - A few days after Pakistan, Iran, China and Russia agreed to join hands to root out ISIS from Afghanistan and the region, the terrorist group carried out the deadliest bombings in Pakistan's troubled election campaigning, killing at least 132 people, including a political candidate.
The bombings at election rallies in southwest region of Baluchistan coincided with the return of deposed Pakistani premier Nawaz Sharif to Pakistan and his subsequent arrest on Friday.
Interestingly, ISIS claimed responsibility for the attacks that come less than two weeks before the general election in Pakistan, which is expected to be closely contested.
According to reports, the target of one of the attacks was Akram Khan Durrani, who is contesting against cricketer-turned-politician and chief of Pakistan Tehreek Insaaf (PTI) on Mutahida Majlis Amal (MMA) ticket. He managed to escape unhurt but Siraj Raisani, who was running for a provincial seat on Balochistan Awami Party (BAP), ticket was killed in another attack.
Khan, who has been vigorously campaigning in past few days, strongly condemned the attack on his rival. "There seems to be a conspiracy to sabotage the 25 July elections but the people of Pakistan will not allow any design intended to target these historic elections to succeed," he tweeted.
As a mark of respect to the people killed in the attack, Balochistan government has announced two-day mourning in the province. The national flag will be at half-mast at all public buildings. Pakistan Tehreek Insaaf and Pakistan Peoples' Party also called off their rallies on Saturday.
Pertinently, the attacks comes a day after the meeting of intelligence heads of Pakistan, Russia, Iran and China in Pakistan in which mutual cooperation and coordination against the menace of terrorism was discussed, according to reports.
The prevailing security situation in Afghanistan and the threat posed by groups like ISIS to the regional peace and stability figured prominently in the discussions.
ISIS has been active in the Afghanistan-Pakistan region, also referred to as 'Khorasan', over the past few years. They have been responsible for many deadly attacks in Afghanistan, especially against the Shia Hazara community.
However, they had not been able to gain foothold in Pakistan so far. Friday's attacks, claimed by the group, are an indication that ISIS has emerged as the biggest threat to peace and stability in the whole region.