Iran, Iraq, Syria to join hands against SDSs
August 9, 2018 - 9:35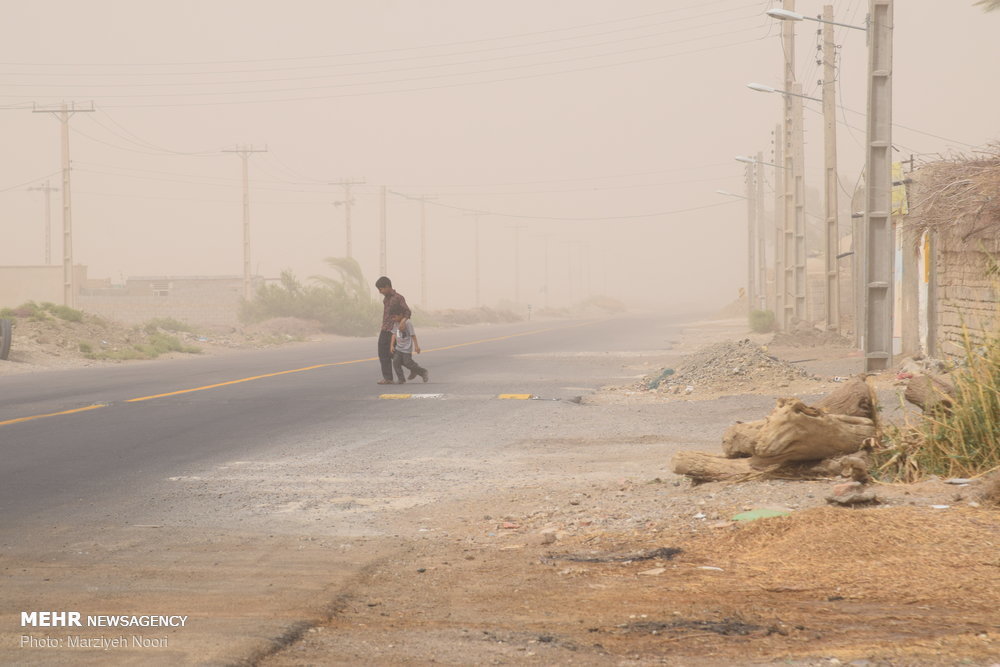 TEHRAN — A plan on combating sand and dust storms (SDS) is scheduled to be prepared in a collaborative initiative with three countries of Iran, Iraq and Syria under the auspices of United Nations Development Programme (UNDP) in the current Iranian calendar year (ending on March 20, 2019), head of national working group on SDS has said.
"An international agreement with neighboring countries can convince them to take action toward tackling SDS and take steps to halt the external SDS hotspots affecting Iran," IRNA quoted Mohammad Ali Tahmasebi-Birgani as saying on Tuesday.
Since the [Iranian calendar] year 1376 (March 1997- March 1998), a number of memorandums of understanding have been signed with Turkey, Iraq, Syria, Qatar and Bahrain, but nearly all have not been efficient, he regretted, adding, so, "we have decided to pursue the issue through international conventions to ensure the implementation."
The budget needed for implementing the plan will be paid partially by the three countries, he highlighted.
"Studies and researches on the origin of external SDS sources hitting the southwestern part of the country is scheduled to be conducted this year, in cooperation with the Meteorological Organization," he highlighted.
As sand and dust storms put many Iranian specially those residing southwestern areas of Iran to considerable inconvenience, Iran has proposed a draft of a resolution on combating sand and dust storms to turn it into a global issue which can garner international support to tackle its detrimental effects, at the 72nd session of the UN General Assembly which closed on December 22, 2017.
The UN General Assembly adopted the resolution, which has recognized the negative effects of sand and dust storms on the citizen's health and considered it as an obstacle to achieve sustainable development goals and has called for urgent measures.
The resolution has also underlined the need for increased technical support and capacity building for addressing the issue and assign UN Environment Program (UNEP), World Meteorological Organization (WMO) and WHO to provide the necessary support to the affected countries.
Following Iran's incessant efforts to foster international support to fight sand and dust storms representatives from more than 40 countries convened in Tehran on July 3-5, 2017 to look collectively into dust and sand storms.
The meeting entitled "International Conference on Combating Sand and Dust Storms: Challenges and Practical Solutions" was hosted by Iran's Department of Environment and Foreign Ministry.
Along with the meeting, Erik Solheim, Under-Secretary-General of the United Nations and UN Environment Executive Director, had a trip to Ahvaz, Khuzestan province, Tahmasebi-Birgani stated, adding that during the trip, he said that "the UN's priority to eliminate SDS in Iran goes to Ahvaz and the issue will also be raised at the UN General Assembly in New York".
Plan on combating SDS to implement within 3 months
The national plan on combating SDS is currently drawn up to some extent, and it will be fully prepared by June 22, 2019, Tahmasebi-Birgani said.
Studies on eliminating SDS sources, have been carried out on some 89,000 hectares of the country and some 320,000 hectares of areas are currently under research, he said, adding that it was partially conducted by the Forest, Rangeland and Watershed Organization and Ministry of Agriculture and Shahid Chamran University of Ahvaz.
Pointing to the priorities of the plan to combat SDS in four provinces of Khuzestan, Kerman, Sistan-Baluchestan and Hormozgan, he noted that "so far, studies on eliminating SDS in Khuzestan province have been completed, while in other provinces will be fully conducted by the end of this year."
After being approved by the provincial working group on combating SDS, the plan needs to be approved by the national working group, it is scheduled to be implemented in Khuzestan province on [Iranian calendar month of] Aban (October 23- November 21), he stated.
He also explained that earlier on January, a total fund of $150 million from the National Development Fund has been earmarked to counter dust storms and devise a system to prevent power cuts in the southwestern province of Khuzestan.
Some $100 million out of this amount is planned to be allocated for elimination of SDS sources and 50 million dollars to the utility projects, he added.
He further announced that so far, some 1.05 trillion rials (nearly $25 million) have been provided to the provincial management and planning organization of Khuzestan province nearly 10 days ago (July 30).
Water channels not environmentally assessed
Elsewhere in his remarks, Tahmasebi-Birgani said that according to the plan on containing SDS hotspots in southern and eastern Ahvaz approved by the president following severe sand and dust storms on March 2017, the rehabilitation of vegetation and dried wetlands in the areas suffering severe sand and dust storms have become priority this year.
To do so, an idea of transferring water by channels to SDS sources such as dried wetlands around Ahvaz was suggested, which have not been environmentally assessed, he also added.
In addition to supplying water to moisturize lands prone to dust generation and providing water right of local wetlands around Ahvaz, the water channels have been proposed to be used for irrigation of Shadegan palm trees, he further explained.
Khuzestan suffering SDSs
Currently, over 700,000 hectares of the lands in province of Khuzestan are prone to dust generation, some parts are due to sandstone erosion and the rest constitute the main hotspots, he concluded.
The early signs of sporadic SDS in southwestern regions, especially Khuzestan Province, was appeared in 2005. This challenge showed its strength and reached a degree that in late January the concentration of fine dust was recorded as 20 times above the standard range in some cities of the province.
According to Iran Meteorological Organization, SDS is fed by external hotspots in Saudi Arabia and Iraq. Although most of these sand and dust storms arise from external sources but one cannot neglect the internal hotspots which, as estimations show, account for about 30 percent of the problem.
Excessive water withdrawal, dam building projects and not granting the water right of wetlands are listed as the main causes for turning wetlands and once fertile grounds and pastures in the province to internal SDS hotspots.
FB/MQ/MG