Vaezi delivers Rouhani's message to Erdogan
August 10, 2018 - 21:5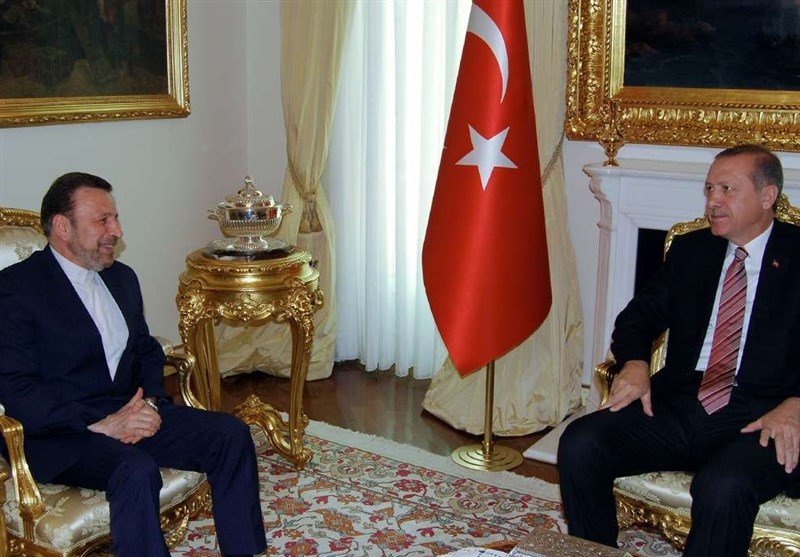 TEHRAN – Presidential chief of staff Mahmoud Vaezi who made a visit to Ankara on Thursday submitted a message from President Hassan Rouhani to his Turkish counterpart Recep Tayyip Erdogan.
In his one-day visit to the neighboring country, Vaezi held meetings with Erdogan, Foreign Minister Mevlut Cavusoglu and some other Turkish officials, Tasnim reported.
Vaezi discussed the latest developments regarding the 2015 nuclear deal, officially known as the Joint Comprehensive Plan of Action (JCPOA), with the Turkish president, saying Tehran is firm to make the United States regret its withdrawal from the nuclear deal.
The Turkish president, for his part, voiced happiness with the visit and his Iranian counterpart's message, reaffirming Turkey's willingness to continue cooperation with Iran, and emphasized ways to develop relations.
Erdogan also expressed the hope that he can meet Rouhani in the near future.
During a separate meeting, Cavusoglu said his country is resolved to expand ties with Iran despite U.S. threats to punish governments that violate recently-restored economic sanctions against the Islamic Republic.
"Time and again we have made it clear that we will not implement U.S. sanctions against Iran," Cvusoglu told Vaezi.
Iran and Turkey have ramped up efforts in recent years to boost trade, setting a $30-billion annual trade target and signing several agreements to enhance cooperation in various areas.
Turkey is one of Iran's major trading partners in the region which has come under pressure from Washington to stop working with Tehran under a fresh wave of U.S. anti-Iran sanctions.
Turkey has emphasized that the U.S. demands to stop purchasing oil and gas from Iran would go unheeded by Ankara.
In comments on June 27, Turkish Economy Minister Nihat Zeybekci said, "The decisions taken by the United States on this issue are not binding for us," adding that Turkey would only fall in line behind a United Nations resolution to the same effect.
MH/PA