Negotiating Hamoun water right, only way for Sistan to survive: report
August 29, 2018 - 9:30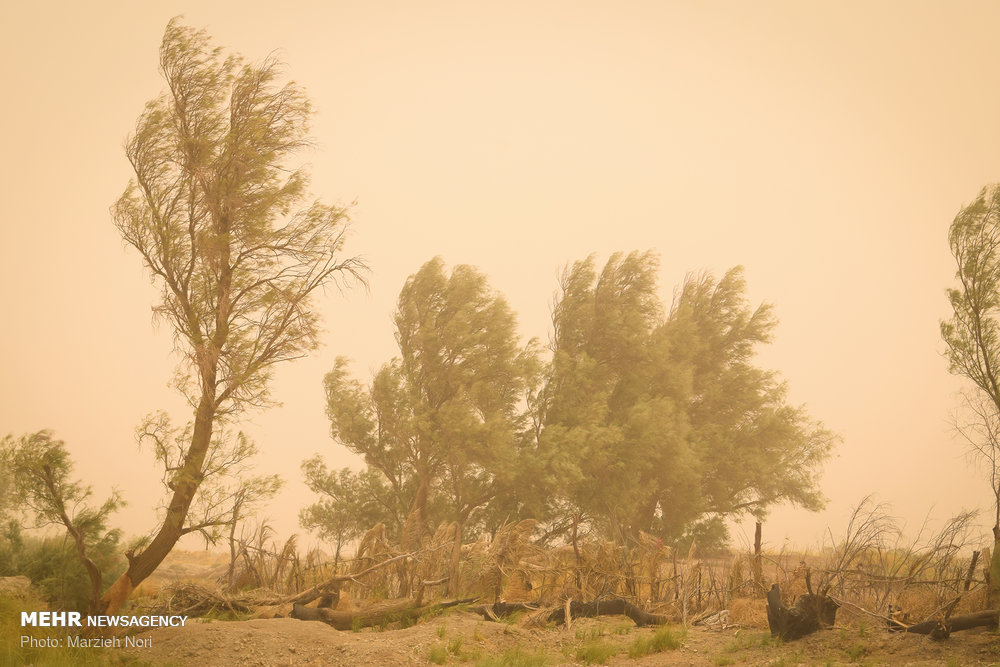 TEHRAN – As long as sand and dust storms (SDSs) severely threatens the lives of people and affects many sectors of agriculture, livestock and industry in Sistan region, southeastern province of Sistan-Baluchestan, the only way to halt the impacts is to negotiate with Afghanistan on granting the water right of Hamoun wetland, IRNA reported on Monday.
The Hamouns are transboundary wetlands on the Iran-Afghan border made up of three lakes: Hamoun-e Helmand, which is entirely in Iran, Hamoun-e Sabari on the border, and Hamoun-e Puzak, almost entirely inside Afghanistan. The three lakes are linked and fed by water from the Helmand River which starts in the Hindu Kush Mountains in Afghanistan.
Victims of extreme SDSs
People living in Sistan has experienced 45 days of unhealthy and 22 days of hazardous air quality since the beginning of the current Iranian calendar year (March 21) until the fifth [calendar month of] Mordad (ending August 22), the report added.
Polluted air quality along with permanent SDSs has caused hundreds of residents to refer to medical centers due to respiratory problems.
As Abdolrahman Shahnavazi, head of Sistan-Baluchestan disaster mitigation and management organization earlier in August said that so far, some 810 people has referred to the hospitals due to respiratory, ocular and heart-related problems, of which 639 patients have been provided with outpatient care, and the rest have been hospitalized.
120-day winds increase SDSs
120-day winds of Sistan raging from northeast to southeast with high speed in summer, affects large areas of Sistan-Baluchestan province, and when the temperature reaches the highest level, it will cause storms, soil erosion and vegetation depletion as well as carrying abrasive sand and particles.
These winds are the sequence of monsoon in India, which get power in Afghanistan especially in the Thar desert and then pass through the flat areas of Afghanistan to enter Iran.
Particulate matter (PM) concentration and SDSs also have been exacerbated by the increase in 120-day winds, as strong SDSs speeding over 100 kilometers per hour have stricken the province for 19 times since March 21, which is unprecedented in past 33 years.
According to the long-term data this year (2018) is the second year the province is being hit with storms with wind speeds more than 100 kilometers per hour compared to the past 55 years.
Drought, climate change exacerbate SDSs effects
The wind is caused by differences in the atmospheric pressure between the mountains and plains, which has always existed, but in the past when the plains were covered with vegetation, and Hamoun wetland was filled with water, the intensity of SDSs has been much lower.
Already, the water level of the Helmand River in Afghanistan has fallen due to concurrent drought along with climate change and rainfall shortages, which is under control of Afghanistan, Ali Mohammad Tahmasbi, director for national headquarters for combatting sand and dust storms has said.
So, Iran cannot demand more than 825 million cubic meters of water which is legally assigned as the water right of Hamoun, while Hamoun capacity is between 10 to 15 billion cubic meters, and Afghanistan will provide the amount as long as the rainfall meet normal levels, Tahmasbi explained.
Tahmasbi went on to explain that both water shortages and climate change has compounded the effects of local winds, to an extent that, there is no way to farm in the region due to severe lack of water and soil erosion, so that cultivation has come to a halt in over 140,000 hectares of the lands in Sistan.
Moreover, wind erosion acts like an avalanche; first, small particles of soil and sand are transported by the wind, and as they get farther away from the starting point, small particles bring larger particles along with themselves. So, wind erosion is a cycle, which affects both countries of Afghanistan and Iran, he lamented.
Solution to eliminate SDSs hitting Sistan
Apart from causing respiratory problems and posing serious threats to the life of residents and intensifying PM concentration, SDSs extremely affect agricultural, livestock and industrial sectors. Its least obvious effects include damages to infrastructures such as power cuts which disrupt daily activities of citizens, offices and organizations.
Tahmasbi believes that, in terms of expertise, there would not be an efficient solution except for providing water right of Hamoun and moisturizing its soil.
To mitigate the effects of sand and dust storms, the only useful measure is to negotiate on the water right of the wetland and maintain the humidity of the surface soil, so that the wind cannot lift the particles, he concluded.
FB/MQ/MG