Plans on agenda to address sand and dust storms in 4 provinces 
February 15, 2019 - 21:28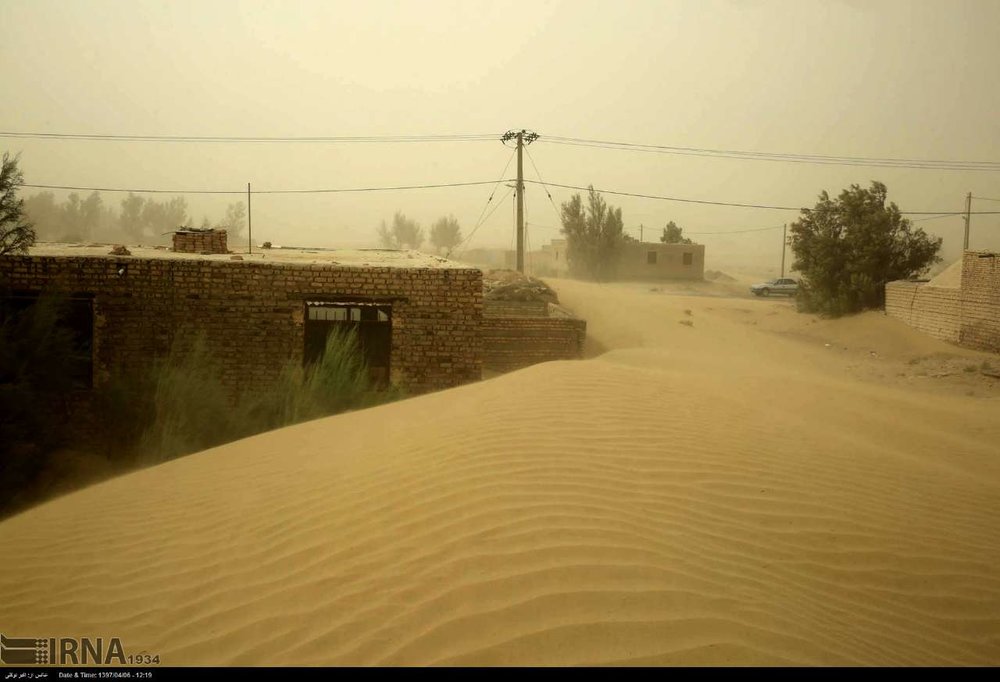 TEHRAN — Studies to combat sand and dust storms are almost completed and next year (starting on March 21) plans will be implemented in four provinces of Khuzestan, Sistan-Baluchestan, Kerman and Hormozgan, director of the national headquarters for combatting sand and dust storms has said.
Ali Mohammad Tahmasbi-Birgani explained that the national document to fight sand and dust storms will be hammered out next week and will be implemented once it is approved.
The five-year plan will set strategies and guidelines for developing early warning systems for sand and dust storms and restoration plans for wetlands and also task responsible bodies to tackle the environmental issue, ISNA quoted Tahmasbi-Birgani as saying on Friday.
Agriculture ministry and Forests, Range and Watershed Management Organization affiliated to the ministry are mainly responsible for implementing the plans, he said, highlighting that, accordingly the biggest share of the budget will be allocated to the Agriculture Ministry.
Next, the Energy Ministry and the Department of Environment are tasked with providing the water right of the wetlands as well as facilitating coordination among responsible bodies, he added.
Elsewhere in his remarks Tahmasbi-Birgani said that reports on identifying sand and dust storm hotspots inside the country are also completed indicating that 24 million hectares of the country's land area are potential hotspots for sand and dust storms while hotspots where san and dust storms originate from amount to 28 million hectares.
Currently the data on sand and dust storms gravity in all regions during various seasons are collected and will be released by the Iranian calendar month of Khordad (May 22-June 21), he said.
Last year the budget to combat sand and dust storms where mostly allotted to the southwestern province of Khuzestan, but this year provinces Sistan-Baluchestan, Kerman and Hormozgan will be also high on agenda, he added.
Thankfully this year with increased rainfalls in the province of Khuzestan as well as undertaking measures to address the issue sand and dust storms only stricken the areas one or twice during the first month of autumn.
According to data released on Friday by the National Drought Warning and Monitoring Center province of Khuzestan received 393.3 millimeters of rain since the beginning of autumn while last year's precipitations in the area amounted to 66.5 millimeters.
Commenting on identifying hotspots located outside the county Tahmasbi-Birgani explained that data on identifying these hotspots will be collected in an attempt with Iran's Meteorological Organization by the next year (March 2019-March 2020).
Detrainment effects of sand and dust storms
According to the World Meteorological Organization (WMO) Sand and dust storms usually occur when strong winds lift large amounts of sand and dust from bare, dry soils into the atmosphere. Over the last decade, scientists have come to realize the impacts on climate, human health, the environment and many socio-economic sectors.
Sand and dust storms are common meteorological hazards in arid and semi-arid regions. They are usually caused by thunderstorms – or strong pressure gradients associated with cyclones – which increase wind speed over a wide area. These strong winds lift large amounts of sand and dust from bare, dry soils into the atmosphere, transporting them hundreds to thousands of kilometers away.
The main sources of these mineral dusts are the arid regions of Northern Africa, the Arabian Peninsula, Central Asia and China. Comparatively, Australia, America and South Africa make minor, but still important, contributions. Global estimates of dust emissions, mainly derived from simulation models, vary between one and three Gigatons per year.
Airborne dust presents serious risks for human health. Dust particle size is a key determinant of potential hazard to human health. Particles larger than 10 μm are not breathable, thus can only damage external organs – mostly causing skin and eye irritations, conjunctivitis and enhanced susceptibility to ocular infection. Inhalable particles, those smaller than 10 μm, often get trapped in the nose, mouth and upper respiratory tract, thus can be associated with respiratory disorders such as asthma, tracheitis, pneumonia, allergic rhinitis and silicosis.
The dust also has many negative impacts on agriculture, including reducing crop yields by burying seedlings, causing loss of plant tissue, reducing photosynthetic activity and increasing soil erosion.
Indirect dust deposit impacts include filling irrigation canals, covering transportation routes and affecting river and stream water quality. Reductions in visibility due to airborne dust also have an impact on air and land transport.
MQ/MG