Iran win five medals at Karate World Championships
November 11, 2018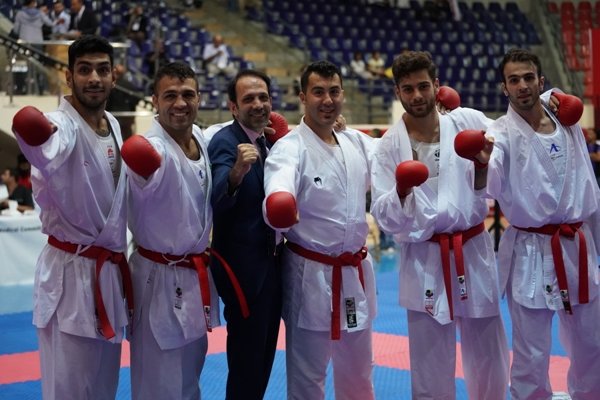 TEHRAN – Iran snatched five medals at the 2018 Karate World Championships on Saturday.
Bahman Askari claimed a gold medal in the Kumite −75 kg.
Askari defeated Italian Luigi Busà in the final match to win the gold medal.
Bronze medal went to Japanese Ken Nishimura and Rafael Aghayev from Azerbaijan.
Sajad Ganjzadeh won the silver after being defeated by Jonathan Horne in the Kumite +84 kg final match.
Bronze medal was won by Spain's Babacar Seck and Alpaslan Yamanoğlu from Turkey.
Zabihollah Pourshab seized a bronze after defeating Kazakhstan's Daniel Yuldashev.
The gold medal went to Croatian Ivan Kvesić who defeated Valerii Chobotar from Ukraine in the final.
Hamoun Derafshipour won a bronze medal in the Kumite −67 kg.
Steven Da Costa from France claimed the gold medal, beating his Brazilian rival Vinícius Figueira in the final match.
And, Iranian woman Sara Bahmanyar won the bronze medal in the Kumite −50 kg.
Japanese Miho Miyahara claimed the gold medal after defeating Serap Özçelik from Turkey in the final match.
The 24th Karate World Championships are Karate's biggest event. Held every two years, the Karate Senior World Championships gather athletes from over a hundred countries in a thrilling quest to sports greatness.

The tournament takes place at the WiZink Center sports hall in Madrid, Spain.
Some 1,200 karate athletes from 139 countries compete in the championships