Iran, India review trade co-op under sanctions
November 14, 2018 - 20:23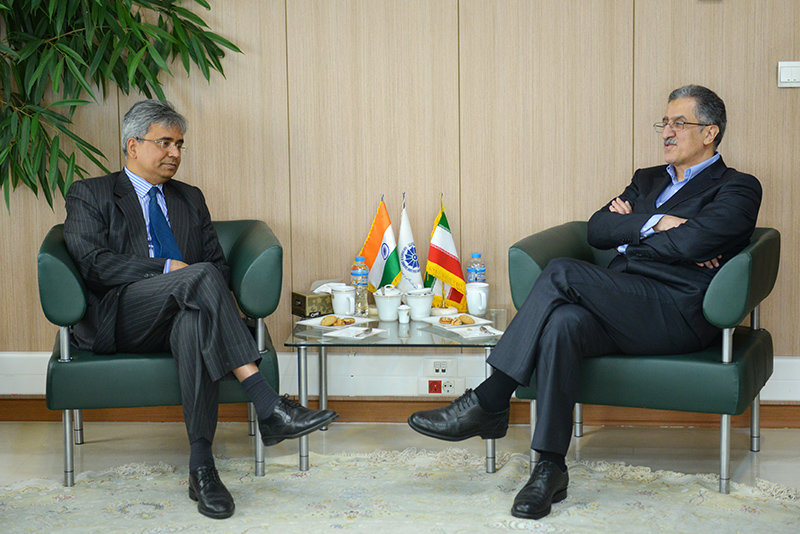 TEHRAN- In a meeting between Head of Tehran Chamber of Commerce, Industries, Mines and Agriculture (TCCIMA) Masoud Khansari and Indian Ambassador to Iran Saurabh Kumar the two sides investigated the prepared mechanisms for doing mutual trade transactions under the unilateral U.S. sanctions imposed on Iran, the portal of TCCIMA reported on Wednesday.
During the meeting held at the place of TCCIMA, Khansari referred to the sanctions as a chance for Iran and India to have a better focus on bilateral economic cooperation and in specific banking ties.
"India has received waivers over Iran sanctions for purchasing oil and it is vital to create mechanisms for easing and clarifying ways of exchanging goods, doing investments, transferring oil revenues into Iran and etc.," he added.
The TICCIMA head announced that the chamber is studying under sanctions trade with regional countries, including India, as well as exports of Iranian goods to their markets.
The Indian ambassador, for his turn, announced that according to a report prepared by the Indian embassy, there are up to 1,000 types of goods among the ones exported from India to Iran.
Expressing content about using rial and rupee in trade transactions between the two countries, he added that Iran can enjoy exports of oil and non-oil products to India besides importing its requirements from India.
He added that to benefit from the sanctions waivers, India can import 300,000 bpd of Iran's oil within the next six months.
According to him, India will pay half of the oil price in Rupee to Iranian banks' accounts in Indian ones, which lets Iran to supply its basic goods such as food and medicine from India.
The rest of the purchased oil price can be exchange into euro or other currencies and be transferred to accounts out of India, however, the act needs new mechanisms and business channels to be defined, he said.
HJ/MA