Pakistan does nothing for U.S., says Trump; Appeasement doesn't work, Mazari hits back
November 19, 2018 - 22:20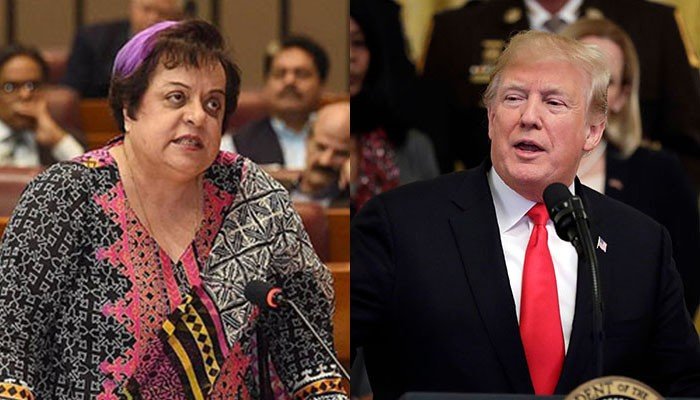 TEHRAN - The no-holds-barred verbal showdown between the American and Pakistani politicians continues with U.S. President Donald Trump and Pakistan's Minister for Human Rights Dr Shireen Mazari locking horns in the latest round.
A day after Trump claimed that Pakistan "does not do anything for his country"; Dr. Mazari took to Twitter to hit back at the megalomaniac American president and remind him of the losses incurred by Pakistan in the 'war against terror' over the years.
"The loss of Pakistani lives in U.S. war on terror, the free space for Raymond Davis and other operatives, the illegal killings by drone attacks — the list is endless," Mazari tweeted on Monday. "Once again history shows appeasement does not work".
On Sunday, while speaking to Fox News, Trump sought to justify his administration's decision to withdraw "military aid" to Pakistan, which did irreparable damage to their bilateral relationship.
"They [Pakistan] don't do a damn thing for us," the U.S. president said, raising the issue of Osama bin Laden being found in Pakistan's garrison city of Abbotabad in 2011.
"You know, living — think of this — living in Pakistan, beautifully in Pakistan in what I guess they considered a nice mansion," Trump said. "But living in Pakistan right next to the military academy, everybody in Pakistan knew he was there," he added.
He went on to say that the U.S. gave $1.3 billion a year to Pakistan as military assistance and ended it because "they don't do anything for us."
Pertinently, the former U.S. president Barack Obama, during whose time the raid was carried out, said late last year that the U.S. had "no evidence that Pakistan was aware of his presence".
Dr. Mazari called "Trump's tirade against Pakistan" a lesson for those Pakistani leaders "who kept appeasing the U.S. especially after 9/11!" "Whether China or Iran, U.S. policies of containment and isolation do not coincide with Pakistan's strategic interests," she added.
In a reply to one tweet, the firebrand Pakistani minister said Trump was suffering from "perpetual historic amnesia".
Many Pakistani politicians and analysts denounced the remarks of Trump. Former Pakistani foreign minister Khawaja Asif also took to Twitter to deride the Trump administration.
"We continue to pay in blood for what we did for U.S. from Beda Ber to fighting wars which weren't ours. Reinvented our religion to suit US interests, destroyed our tolerant ethos, replaced it with bigotry and intolerance. A relationship of betrayals & sanctions," he tweeted.
Relations between the United States and Pakistan, which had developed strains in recent years, hit a new low in January when Trump suspended $300 million U.S. aid to Islamabad on the pretext that Pakistan had failed to take action against militant groups.
The Coalition Support Funds were part of a broader suspension in aid announced by Trump at the start of the year, when he accused Pakistan of rewarding past assistance with "nothing but lies and deceit." Pakistani government and military establishment had dismissed the charge as baseless.
Since then, the accusations and counter-accusations have been flying thick and fast. Last month, U.S. Secretary of State Mike Pompeo drew angry reactions in Pakistan when he remarked that Pakistan should "not provide safe harbor to terrorists on their western border".