Developing ties with Azerbaijan important for Iran: Rouhani
December 25, 2018 - 21:32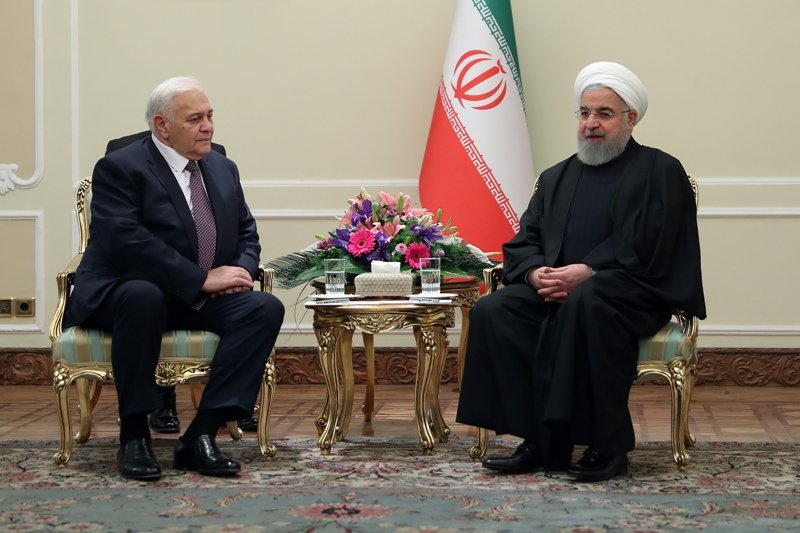 TEHRAN – President Hassan Rouhani said on Tuesday that expansion of relations with Azerbaijan is important for Iran and described relations between Tehran and Baku as "friendly" and "brotherly".
"Fortunately, relations between the two countries in the recent years have been increasing, and today we are witnessing close cooperation and relations between Tehran and Baku," he said during a meeting with Speaker of the National Assembly of Azerbaijan Republic Ogtay Asadov.
He added, "The fruit of attempts and close relations of the authorities of the two countries has been development of relations and cooperation between the two countries."
"Because of its close cultural, religious and cultural affinities with Iran, the Republic of Azerbaijan is one of the closest countries to Iran and we have had good relations with the country since its independence," the president explained.
He also praised the growing cooperation in different fields such as industry, pharmaceuticals, science and technology, saying, "Iran and the Republic of Azerbaijan took an important decision for using energy resources in the Caspian Sea."
For his part, Asadov said, "The presidents of the two countries are determined to cement relations and cooperation".
"Trade between the two countries has increased 40% in 2018, which can increase more based on the capabilities and potentials in the two countries," he added.
Asadov also hailed Iran's approach towards regional and international issues and its respect for the sovereignty and territorial integrity of neighboring countries, noting, "Certainly, regional issues and disagreements can only be resolved by the hands of the countries of the region".
Larijani calls for stronger Tehran-Baku economic ties
Iranian Parliament Speaker Ali Larijani, in a Tuesday meeting with Speaker of the National Assembly of Azerbaijan Republic Ogtay Asadov in Tehran, described ties between the two countries as strategic and praiseworthy, and called for broader economic relations.
Larijani hailed the longstanding and strategic relations between the Islamic Republic and Azerbaijan, and called for securing "closer economic ties".
Pointing to the friendly relations between the two neighbors, Larijani attached great importance to the development of comprehensive ties between Tehran and Baku, especially in the economic sector.
During the meeting, the two sides also discussed ways to facilitate border interactions and accelerate the implementation of mutual agreements.
Shamkhani says Trump uses sanctions for revenge
In a separate meeting with the Azeri official, Ali Shamkhani, secretary of Iran's Supreme National Security Council, said that U.S. President Donald Trump is using sanctions as tool for revenge.
In violation of the UN Security Council Resolution 2231, President Donald Trump withdrew the U.S. unilaterally from the nuclear deal in May and ordered sanctions against Iran. The first round of sanctions went into force on August 6 and the second round, which targets Iran's oil exports and banks, were snapped back on November 4.
Shamkhani said that the U.S. sanctions are illegal.