U.S. does not dare to consider military option against Iran: IRGC chief
December 29, 2018 - 0:8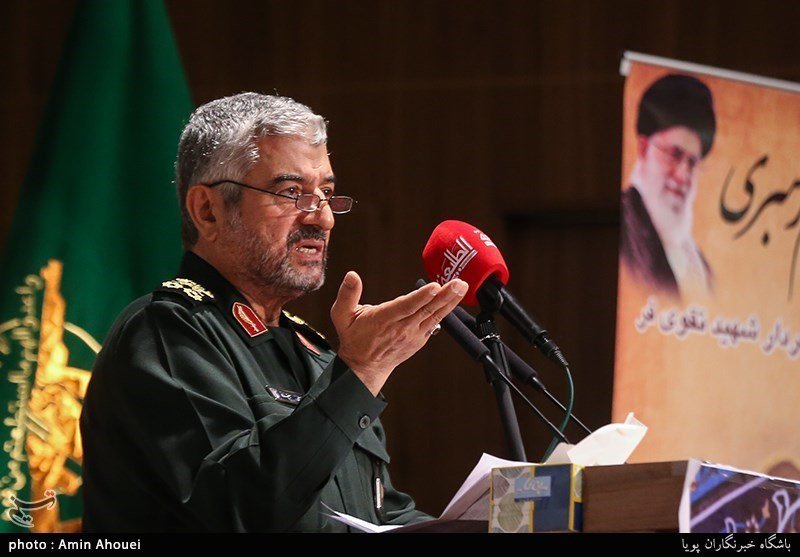 TEHRAN – Commander of the Islamic Revolution Guard Corps (IRGC) Mohammad Ali Jafari said on Thursday that Iran has reached a degree of power that the U.S. does not dare to consider military option against it.
"It's been for many years that we have distanced from security threats and no superpower imagines aggression against us," he said during a ceremony.
He noted that the country is involved in economic war, however, the situation of the country is far much better than the war-stricken regional countries.
Last week, the IRGC held military drills in the Persian Gulf, displaying the defensive and offensive power of Iran.
For the first time, anti-helicopter mines (AHM) were tested in the drills.
The anti-armored units of the IRGC Ground Force exercised operations to regain the regions occupied by the mock enemy.
According to the Fars news agency, the BMP personnel carriers were unloaded from a landing craft and entered the coastal areas to evacuate the commandos to free the occupied territories.
The T72 tanks of the IRGC Ground Force also advanced towards the freed areas by leaving their positions in coastal areas and conducting operations.
Reportedly, IRGC vessels followed the carrier and its accompanying warships when it entered the Persian Gulf, at one point launching rockets nearby.
NA/PA