Jaberi Ansari discusses Syria with Russian military, diplomatic officials
January 11, 2019 - 20:3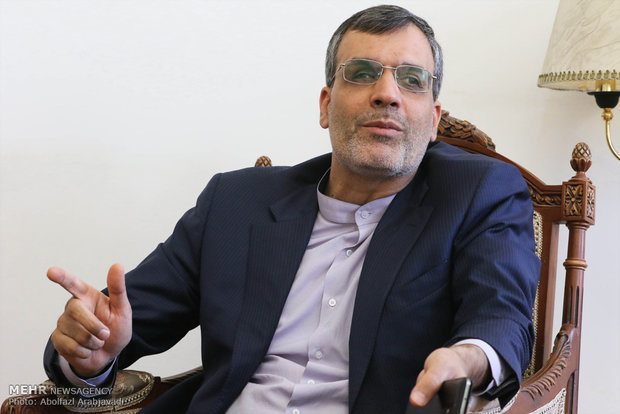 TEHRAN - Hossein Jaberi Ansari, a senior advisor to the Iranian foreign minister for political affairs, held meetings with a number of Russian officials in Moscow on Thursday, discussing the latest developments surrounding Syria.
He held separate meetings with Russian Deputy Defense Minister Alexander Vasilyevich Fomin, Middle East director Sergei Vershinin, and Deputy Foreign Minister Mikhail Bogdanov, who is also President Vladimir Putin's special envoy for Middle East affairs.
The planned withdrawal of U.S. troops from Syria has created a new situation in the region.
Turkish Foreign Minister said Mevlut Cavusoglu said on Wednesday that as the U.S. is experiencing "certain difficulties" with the withdrawal from Syria, it should be coordinated with Iran and Russia to prevent "terrorists" from taking up the vacated space.
"The United States [has] been facing certain difficulties with the process of the troops' withdrawal from Syria. We want to coordinate this process with Russia and Iran, with which we had arranged work in the framework of the Astana process," Cavusoglu stated, according to RT.
Cavusoglu visited Moscow late in December to discuss the situation in Syria. On Wednesday, he mulled bilateral talks between Turkey and Iran, giving no timeframe, however.
At the same time, Cavusoglu revealed that a summit involving the presidents of Turkey, Russia and Iran is being prepared in Moscow. The last meeting between the three presidents was held in Tehran on Sept. 7
The proposal comes as Ankara and Washington are engaged in a bitter war of words over the U.S. troop withdrawal from Syria. On Tuesday, U.S. National Security Advisor John Bolton blasted an opinion piece penned by Turkish President Recep Tayyip Erdogan for the New York Times as both "offensive and wrong."
Erdogan praised his own efforts in combatting terrorism in Syria, while criticizing the U.S.-backed operations in Raqqa and the Iraqi city of Mosul, as well as recalling the "lesson of Iraq" and the "premature declarations of victory" which led to the emergence of Islamic State (IS).
Iran, Russia, and Turkey - guarantors of the Syrian peace process under the Astana Group– have spurned efforts by the UN to change the composition of a committee due to write a new constitution for Syria.
The 150-strong committee, due to start work this year, could pave the way for UN-supervised elections and a possible peace process that would encourage millions of refugees to return to their homeland, the Guardian reported.
The agreement on the committee's formation was formally reached by the three countries on December 18 last year in Geneva and the proposals passed to former UN special envoy for Syria, Staffan de Mistura, for his endorsement and for consideration by the UN Security Council on December 20.
The Geneva agreement was signed off by Çavu?oglu, his Russian counterpart, Sergei Lavrov, and Iran's Mohammad Javad Zarif.
NA/PA