By Masoud Hossein
Iran football federation seems blind to some rules
January 15, 2019 - 18:39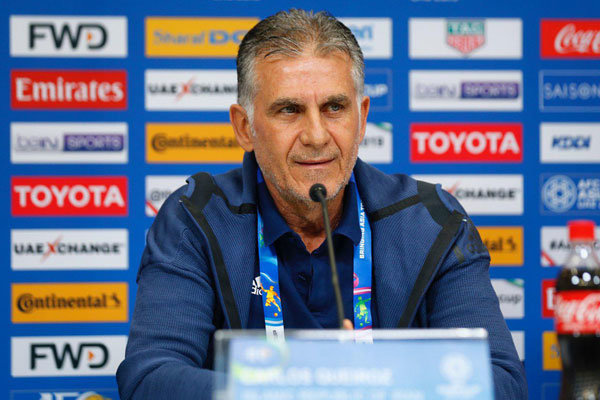 TEHRAN – It would be odd to negotiate coaching a team while you are still under contract with another, but that seems to be the case for the Iran football federation and Team Melli coach Carlos Queiroz.
The Colombian media reports suggest that the South American federation has reached an initial agreement with Iran's current coach Queiroz. The Portuguese coach needs concentration to bring an end to the country's 43-year title drought in the 2019 AFC Asian Cup.
The time is ripe for Iran to win the title after more than four decades, because Team Melli has the advantage of a "golden generation". However, many obstacles still lie ahead.
Football rules and regulations are quite clear; you are not supposed to discuss new opportunities with other teams while you are still committed to your current team.
Take Spain's coach Julen Lopetegui, for example. He was sacked just two days before their opening the FIFA 2018 World Cup game against Portugal since he had agreed to take over at Real Madrid after the World Cup.
The Spanish football federation terminated Lopetegui's contract as a matter of principle.
Another instance is Sven-Goran Eriksson, who lost his job as England's coach after the Swede negotiated with 'Fake Sheik' Mazher Mahmood over a new post in 2006.
Mahmood posed as a wealthy Arab businessman interested in investing in football and held two meetings with Eriksson.
In the resulting story in the News of the World, Eriksson was reported saying he would quit England if they won the 2006 World Cup, and that he would consider becoming Aston Villa coach if the 'Sheikh' bought the club.
The Iranian federation's silence over this situation could break Team Melli's focus and spirit during the AFC Asian Cup.
All national coaches who are under contract with the countries' federations are not allowed to break the football rules, and there is no exception. Queiroz, just like other coaches, can hold negotiation with any other teams but after the Asian Cup ends.
On top of that what remains puzzling is the Iranian football federation has turned a blind eye to Queiroz negotiation with the Colombian team, prior to his tenure in Iran.