Book recounts 63 stories on songwriter Mohammad-Ali Bahmani 
January 27, 2019 - 19:0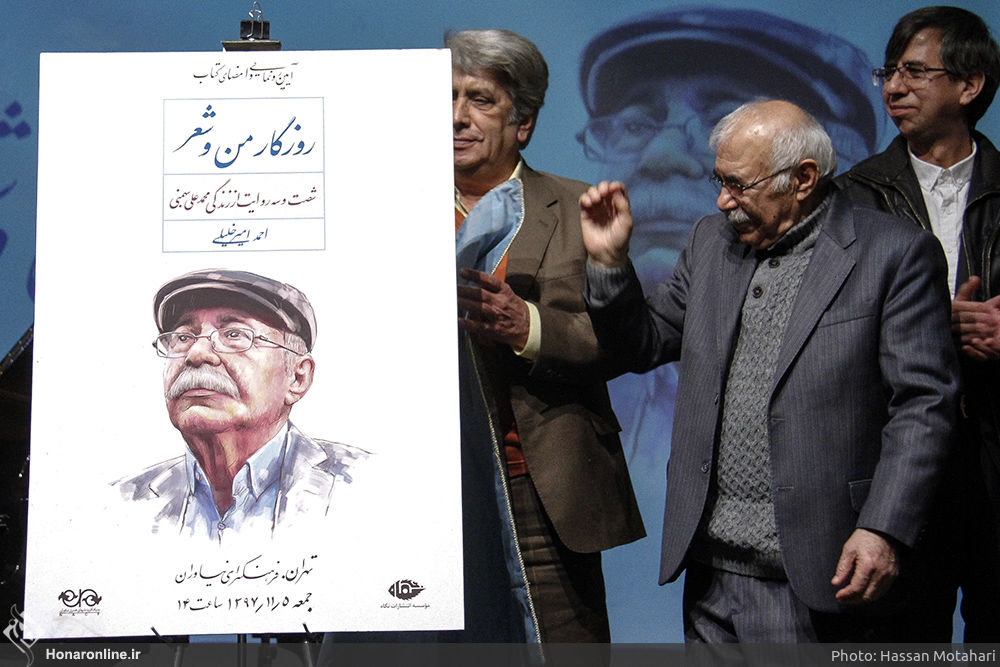 TEHRAN – A book containing 63 stories from 76-year-old songwriter Mohammad-Ali Bahmani's life has recently been published.
"Me and Poetry Age" authored by young lyricist Ahmad Amir-Khalili was unveiled during a ceremony at the Niavaran Cultural Center in Tehran on Friday.
In his remarks made earlier last week, Amir-Khalili said that biographical writings are not useful for literature and added, "With an artistic view, I wrote Mr. Bahmani's memories of various topics in story writing style."
He said that he began his career in poetry in 2011 when he met Bahmani.
"He narrated the memories during evening parties. In my opinion, he is the sole person who began poetry at nine and has lived a poetic life until today when he is 76. All Bahmani's life has been blended with poetry and he has breathed every moment with poetry over these years," Amir-Khalili mentioned.
Amir-Khalili said that four types of Bahmani's poems inspired "Me and Poetry Age", which was published by Negah Publications.
"The poems that produced certain outcomes, the poems that were composed as a result of certain accidents, the poems that were dedicated to certain persons, and the poems that offered an excuse for an emotional, social or political dialogue," he stated.
Amir-Khalili, 30, published his first collection "Wanted" in 2014.
Songs composed by Bahmani have been acknowledged by Iranian singers, both those who live in Iran and those who are in exile.
Photo: Songwriter Mohammad-Ali Bahmani (2nd R) unveils a poster for lyricist Ahmad Amir-Khalili book's "Me and Poetry Age" at Tehran's Niavaran Cultural Center on January 25, 2019. (Honaronline/Hassan Motahhari)
MMS/YAW